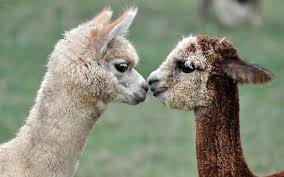 Alpacas are a domesticated species of the South American camelid. Baby Alpaca yarn is made from the undercoat of young animals, and is softer than regular alpaca. The yarn is easy to care for, strong, and warmer than the equivalent weight of wool, and also felts easily.
The Perran Yarns range currently includes several baby alpaca yarns:
Our Double Knitting weight baby alpaca yarn is luxuriously soft, blended with linen for drape and silk for extra sheen.
The beautiful Flowery Infinity Scarf knit kit was designed specifically for this yarn, in collaboration with Yorkshire-based knitwear designer Sandra Nesbitt. The kit includes a fully-illustrated printed copy of the easy lace pattern, designed to use one skein of baby alpaca linen silk yarn in your choice of colourway.
My Chunky Baby Alpaca yarn is so soft you'll just want to squoosh it! It's the perfect choice for luxurious cosy winter accessories to snuggle into during cold weather.