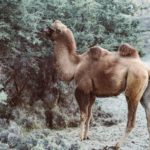 Baby camel yarn comes from from the soft, warm undercoat of the two-humped Bactrian camel, which lives in cold climates like Mongolia.
The coat can grow thick and fast, but the baby camel yarn is spun from the downy fiber on the camel's underbelly, which the camels naturally shed in the spring.
Camel down is amazingly lightweight, super soft, lustrous, and warm, and blooms beautifully after washing. As far as fineness rating goes, measured in microns, baby camel yarn can be a similar micron count to cashmere.
The Perran Yarns range includes a silk/baby camel blend yarn in both 4ply and lace weights.
Weight: approx. 100gram
Yarn: 50% Silk, 50% Baby Camel
Type: 4ply fingering
Length: approx. 400 metres ~ 437yards
Recommended needle size: 2.5-4mm