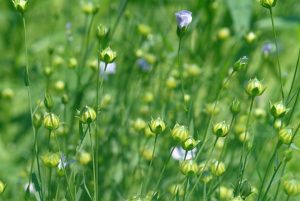 Linen yarn in made from the cellulose fibres of the flax plant; one of the oldest plants harvested by man. Linen was sometimes used as a form of currency in ancient Egypt.
After planting it is ready for harvesting after about 100 days. The stems are pulled up (preferably with the roots intact), dried and spun into linen thread.
Linen yarn is very strong and durable, and is actually stronger when wet than when dry. It has low elasticity, and can absorb a fair amount of water without feeling too damp. It is cool to the touch, smooth and gets softer with washing.
The Perran Yarns range includes linen in 2 bases:
Egyptian (DK and Lace) – baby alpaca, silk and linen
Vegan (4ply) – linen and bamboo
The Flowery Infinity Scarf knitting pattern was designed exclusively to use one 100gram skein of Egyptian DK yarn, sold in kit form in our Etsy shop.
Our Light & Lacy Shawl crochet pattern was designed for one 100gram skein of Egyptian Lace or Decadence Lace yarn, sold as a kit or pattern.