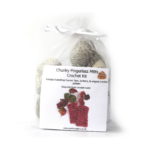 Perran Yarns knit and crochet kits are a fabulous treat for yourself or a crafty friend. They're the perfect way to try a new yarn, or give a unique and interesting gift to the knitter or crocheter in your life!
Packaging
Each kit is available in either a ready to gift kit packaged in an organza drawstring bag, or without additional packaging to minimise cost. Kits purchased without additional packaging are sent by Large Letter post, with the skein untwisted and laid flat in the box, so your postie can pop this through your letterbox alongside your regular post!
What's included?
The kits include the required amount of Perran Yarn plus full written instructions, together with an insert card with details of how to wind the yarn skein before starting, and links to my website for hints, tips and the FAQ.
What about the needles and hooks?
Knitting needles and crochet hooks are not included in the kits as crafters often already have their own stock of these. However I stock a variety of Addi circular knitting needles, bamboo straight knitting needles, bamboo crochet hooks and luxury olivewood crochet hooks which can be bought alongside the knit and crochet kits from my Etsy shop.
Some customer quotes about Perran Yarns kits:
"This wool is the nicest I have ever knitted with. Not only are the colours my favourites but the softness of the wool makes it a pleasure to work with and can't wait to finish and wear the scarf. Messaged the owner about when the colours would be available again and was so impressed with really quick response and also let me know when they became available. Really quick in sending goods – thank you. I have recommended seller to friends and will definitely be back for more soon myself."
"Great item thanks. Beautiful yarn perfect gift."
"Beautiful wool and the colours are gorgeous, can't wait to start my project. Wonderfully presented and delivery was brilliant. Many thanks."
Knit Kits – available at www.PerranYarns.etsy.com
Crochet Kits – available at www.PerranYarns.etsy.com