Hello! I'm Steph – owner and hand dyer of Perran Yarns.
I have a passion for hand dyeing luxury yarns in my dedicated home dye studio, near the beautiful Cornwall coastline of Perranporth. I'm the dyer, marketing manager, order packer, website developer & coffee maker, so if you need to contact somebody it'll be me!
Perran Yarns are all about luxury yarn bases hand-dyed in beautiful wearable colourways. I love living near to the beautiful Perranporth coast, which has a big influence on my colourways and pattern designs.
Our yarns and original kits enable you to make a handmade accessory or garment that is a joy to create, soft and comfortable to wear, and will co-ordinate with many of your outfits.
Softness is essential to me, as I've always had sensitive skein that is prone to eczema. Life is too short to spend time carefully hand-crafting next-to-skin projects with scratchy yarns! Also It takes time to hand-dye yarns, so it makes sense to start with the best quality natural fibre yarns to give a truly luxurious and individual finished product.
Our range focuses on sumptuous yarns which are not so easy to find, so you'll discover natural fibre blends you may not even have heard of before. I choose luxurious base yarns including blends such as merino, tencel, silk, seacell, baby alpaca, baby camel, and more.
You can read more facts about the yarns such as where they come from plus their properties and benefits in my Yarn Origins section.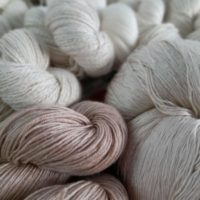 Hand-dyeing gives totally unique colourways in both semi-solid and variegated colourways. These vary slightly within each skein and batch, meaning you get a truly exclusive yarn for your project.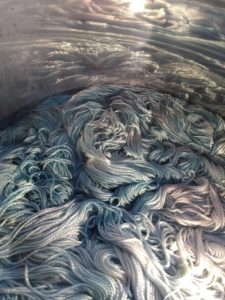 For me, hand dyed yarns mean variegated colourways or semi-solid shades with a subtle variety of tones, both within and between batches. This preference has led me to use various techniques for dyeing the yarns.
I kettle-dye, hand-paint or dip-dye the skeins individually in very small batches using professional Jacquard dyes. These dyes give beautiful, reliable, long-lasting results.
I started hand dyeing yarns in 2006, and even now I am still delighted and surprised by the tones and shades achievable with these methods.
My colourways are inspired by all sorts of things such as seasonal changes in the beautiful Cornish landscape, favourite foods, and colour fashion forecasts.
It is very important to me that colourways are wearable when worked into the final project. I believe that colourways should look beautiful in your finished project, not just in the skein!
I am happy to hand dye custom orders on your choice of yarn base to match whatever you require. To date I have matched dye colours to wedding dress fabric samples, images of clothing, paint swatches, and even food!
Custom dye orders cost the same as any other dyelot, which depends on the yarn base chosen and dye method required to give the required finish.
If you're not sure which yarn base to choose, I can give advice depending on your requirements. If you already have yarn that you would like to be hand dyed I can give you a custom price for that.
To discuss your requirements, contact me today.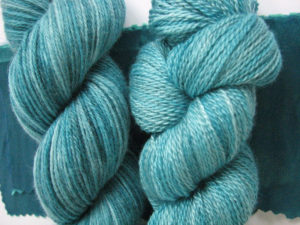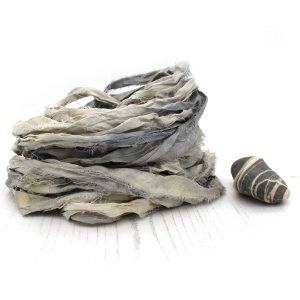 Complimenting the yarns, I also hand-dye recycled sari and chiffon silk ribbons in similar colourways.
These rustic ribbons are ideal for many different textile and mixed media crafts from textile jewellery to bouquet wraps – browse through my Sari silk ribbon projects Pinterest page for inspiration.
Browse the shop to find your favourites!
"What a fabulous yarn I can't wait to start ...just beautiful"
"Beautiful yarn and lovely colours; exactly what I wanted. Extremely fast postage. Delighted, will shop again! Thanks."
"High quality baby alpaca yarn, lovely colours."
"Absolutely stunning yarn, I am highly delighted with it!!!"