I am happy to do custom dye orders on your choice of yarn base to match whatever you require.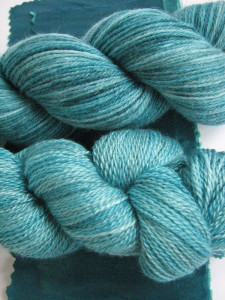 To date I have matched dye colours to wedding dress fabric samples (pictured), images of clothing, and even food!
Custom dye orders cost the same as any other dyelot, which depends on the yarn base chosen and dye method required to give the required finish.
I usually work from either a fabric sample that you send to me, or images that you can print and post to me or send links to online.
You will also need to choose from the wide range of yarn bases that I currently stock. If you're not sure which yarn base to choose for your intended project, I'm happy to help you decide based on the yarn characteristics.
To discuss your requirements, contact me today!