Seacell is derived from seaweed, but you won't smell the sea!
It is natural fibre made from crushed seaweed combined with lyocell (a fibre derived from wood pulp), making it easily biodegradable when discarded. The seaweed used is Knotted Wrack, found in Icelandic fjords. Both seacell and lyocell use an energy efficient closed-loop system to reuse water and chemicals. The final yarn contains approx. 4% seaweed.
Often combined with lustrous silk, this yarn is incredibly soft and smooth. It has an amazing sheen and fabulous depth of colour. The wonderful weight and drape make it perfect for a stunning lacy scarf to accessorise your outfit at a special occasion.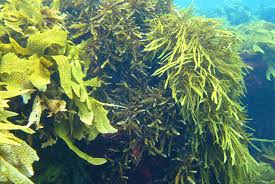 We stock this luxury yarn in a versatile 4ply weight called 4ply Silky Sea. The 100gram skein contains 400metres of luxury yarn, which can be used with any standard 4ply pattern suitable for a silk-blend yarn.
We hand dye a wide range of repeatable colourways, together with a regular selection of limited edition shades.
Take a look at our shop to see the colours currently available, or contact us if you'd like something specific.
Flower Row Crescent Shawlette
Our Flower Row Crescent Shawlette knit kit has been developed as a collaboration with Yorkshire-based knitwear designer Sandra Nesbitt. 
The shawlette was designed especially for one skein of 4ply Silky Sea yarn, taking full advantage of the yarn's drape and sheen.
The pattern combines several different stitch patterns to give a flower garden look. Written instructions are accompanied by charts for each section. The kit is suitable for intermediate  level knitters.
The kit includes a printed copy of the pattern together with the yarn, which is available in a variety of beautiful hand-dyed colourways.
"OMG! How gorgeous is that colour! Incredibly soft & silky. I am just too excited to be knitting with this. Thank you so much!"