Free crochet pattern for you to enjoy - the easy No Fuss Cowl!
Need something quick and easy to crochet, that you can wear for years to come? Maybe you need a simple but beautiful gift idea? Our easy crochet pattern for the No Fuss Cowl is the answer! Using just one skein of our DK Wool Cotton yarn you'll have a simple project to crochet, with wonderful results.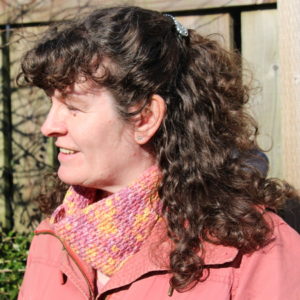 The story behind the No Fuss Cowl crochet pattern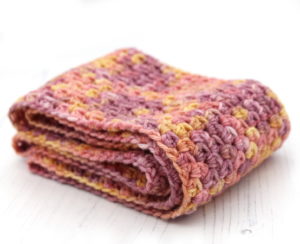 As I've always had sensitive skin that is prone to eczema, I'm drawn to smooth natural fibre yarns such as cotton. This isn't always the warmest option for cool weather accessories, but our DK Wool Cotton yarn is the perfect compromise. 
The yarn is warm and cosy but still smooth and beautifully soft, so you can wear it against the skin without any irritation. That makes it perfect for an item that will be wrapped around the delicate skin on the neck!
This quick and easy crochet pattern uses just one 100gram skein of DK Wool Cotton yarn, available in a variety of colourways in our online shop. It's a great project for crocheters of all skill levels – if you've mastered the basic stitches, you can make this!
The pattern is worked in simple clusters of half treble stitches. If you're not sure how to work these stitches, just have a quick look at a YouTube video tutorial. Grab some yarn and work a couple of rows with the stitch before you start the cowl pattern, to make sure you've got the hang of it.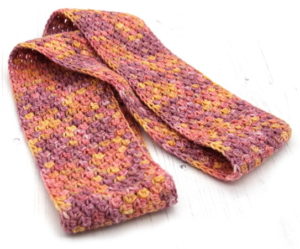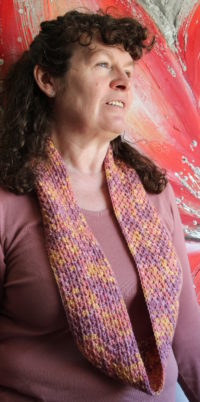 The long loop design can be worn in a couple of ways. 
Wrap it around and wear it double to keep your neck cosy; this is ideal to tuck into the collar of your coat outdoors.
Indoors, unwrap one loop to wear it as a decorative accessory that still keeps a little warmth against the back of your neck.
The minimalist design lets the beautiful yarn colourways do the talking – it's a simple, no fuss cowl!
How to choose your No Fuss Cowl Colourway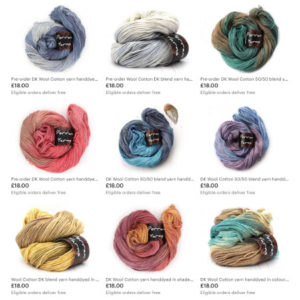 Choosing your cowl colourway couldn't be more simple, as I have created a wide selection of choices for you to choose from in our online store. I can even dye a custom colourway if you'd like something unique – just contact me to discuss.
If I was thinking about making a new cowl tomorrow I would personally take into account two things when choosing my colourway. 
Firstly, the colour of my coat(s) – which may lead me to go for a complimentary colourway. If I was in a more extrovert mood I may go for a bold contrasting colour – why not have some fun?! 
Secondly, I'd think about transitional weather and choose a colourway to match my seasonal outfits under my coat. The early spring and late autumn season here in the UK can be temperamental at best, so I might want to carry on wearing my cowl indoors after taking my coat off. Selecting a colour based on my layered wardrobe would work best for this.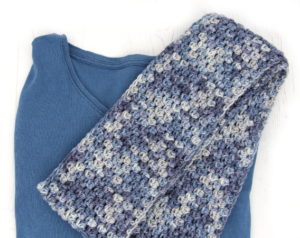 The great thing about this particular pattern is that once you have the stitches memorised you can make several cowls in different colourways quickly and easily, so if you can't decide on just one favourite colourway, then choose two, or three, or as many as you like!
Of course you don't have to make the cowl just for yourself; giving one as a gift is a thoughtful and useful present idea. You have the fun of crocheting it, then the recipient has the benefit of wearing a lovely practical handmade gift from you!
No Fuss Cowl crochet pattern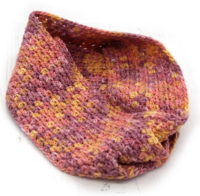 Materials:

100g Perran Yarns

DK Wool Cotton

, or any similar DK yarn

4.5mm crochet hook
Measurements:
Approx. 122cm / 48in round x 10cm / 4in deep
Abbreviations (UK terminology):
ch: chain
sl st: slip stitch
htr: half treble (US = half double crochet)
Tension/Gauge:
10cm = 7 clusters wide x 8 rows deep
Construction:
Cowl is worked in rounds (first in one direction then the other) so there is no seam, in clusters of 2htr stitches
Instructions:
Foundation chain – Ch169, do not join yet!

Work 2htr into 3rd ch from hook, *skip 1ch, 2htr in next ch; repeat from * to end, sl st to top of 2ch before first htr to join, ensuring there are no twists, turn

Ch2 (stands as first htr), work 1htr into gap below, * skip next 2htr cluster, 2htr into gap before next 2htr cluster; repeat from * to end, sl st to top of first ch2 to join

Repeat step 3 for another 15 rounds (or until there is not enough yarn left to complete a round)

Pull yarn through last st to finish

Cut yarn and sew in ends, using initial end to sew start and end of foundation chain together
There's no need to block unless you want to; wear and enjoy!
Free and easy crochet pattern – the No Fuss Cowl!