What exactly do you get in a yarn advent calendar?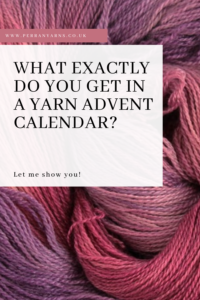 Ever wondered what you might get in a yarn advent calendar? In today's blog post I'm going to take you behind the scenes of last year's yarn advent calendar, so you can see exactly how I create them for you.
This year I have something special planned, so please make sure to sign up to the newsletter to get your exclusive news on 2021's advent calendar yarn!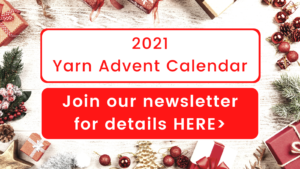 What is a yarn advent calendar?
Yarn advent calendars work in a very similar way to traditional Christmas advent calendars and make great alternative advent treats for your knitting and crochet friends. They come in many different forms though and you will find it depends entirely on the independent yarn brand, or indie dyer, as to how they want to make theirs up.
For example, some boxes are designed for the 12 days of Christmas and might contain full skeins (100g of yarn) and/or mini skeins. Some boxes are designed with 24 mini skeins, so you have a little treat every morning leading up to the big day.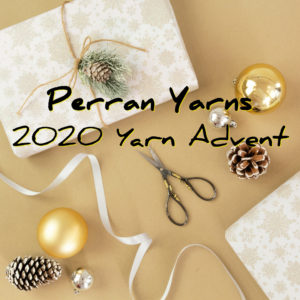 Last year, for Christmas 2020, I produced a yarn advent calendar that included 24 cute mini skeins of assorted 4ply merino-blend yarn bases, including sparkle and high-twist yarns. These were a mixture of my best selling colourways, with some exclusives. Each mini skein was individually wrapped in sparkly tissue paper and numbered for each day, along with a few extra little treats.
I also gave customers the option to add an additional gorgeous 100g skein to the calendar for Christmas Day. This skein was in a new supersoft 4ply silky merino, cashmere and silk blend yarn and I dyed it in an exclusive colourway, which I reserved solely for the 2020 Yarn Advent.
As you can imagine this project is a huge amount of work, so my plan is to change things up each year; not just as a change for you, but also for me.
When I start designing and producing my yarn advent calendar
I usually start work around June with my initial design notes. This gives me plenty of opportunity (and time) to create something just as special each year. It allows me the creative space to be inspired, not just in how each skein should look, but how you might use all of the advent calendar yarn together (if you wanted to). You see for me, the joy of the yarn box isn't just about receiving new yarn each day, it's about the journey you take, each festive day, and the joy you get from your treats thereafter.
Production can also start as early as July, because whilst I limit the amount of boxes I have available, the process of work needs to fit alongside my other production work.
Creating advent boxes is a huge undertaking, from planning the multiple colourways, to sourcing mini skein wrappings and determining sizes, so that the whole package can be dispatched with minimal postage costs. Dyeing the multiple colourways takes many dye sessions, so what feels like a simple project, actually becomes weeks of work. Then of course there is the labelling & wrapping for each individual box – that takes hours!
This is why I made the ultimate decision to limit the number of boxes I have available, so that with one pair of hands you get something lovingly prepared just for you, not something rushed. I want you to feel like you are receiving a gift.
Although, have you seen on Instagram that I am building a new dye studio? I think this is really going to give me the space to be able to up my capacity each dye round. Who knows, it may even mean that from 2022, I can open up more advent calendar spots!
When I list my yarn advent calendar each year
There is lots to consider when picking the perfect moment to list my boxes and so I take a good deal of time preparing at the very beginning of my design work, so that boxes are actually in production when I list them as a pre-order.
Exact dates currently vary, due to production timings of other stock lines, and of course shows, which mostly happen throughout Autumn for me.
As I only produce a small number of yarn advent calendars each year, they tend to go very quickly, so it is best to sign up to my email list  where I can keep you updated on progress.
Where to buy my yarn advent calendar
This year the yarn advent calendars will be available exclusively via my Etsy shop. This is because of the limited  numbers I produce. I simply do not have enough to stock in multiple places, or with stockists.
If you are interested in more news about my yarn advent calendar, make sure to sign up to the newsletter above.
Happy knitting!
Steph x
What exactly do you get in a yarn advent calendar?