Just thought I'd shar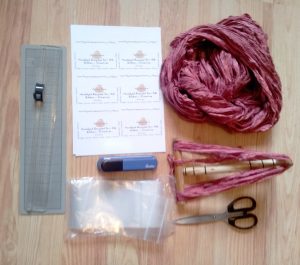 e this picture which sums up today (and several others) for me, packaging my hand-dyed recycled sari silk and chiffon silk ribbons.
I dye the ribbons in 100gram skeins, as with my other base yarns. However many customers use these ribbons in shorter lengths for textile crafts, dreamcatchers, collage, jewellery making etc.
After some initial experimentation I've found that the 10metre packs are the most popular, although you can purchase whole skeins if you like – just contact me to do a custom order for you!
The 10metre lengths are measured out using my beautiful yew niddy noddy, handmade in Machynlleth, Wales by fellow Etsy seller Woodbeach. It's a joy to use, and ensures that I get the length right every time.
The ribbons then go into small ziplock plastic bags to keep them in great condition, then top it off by stapling on a bag top – which I have designed, printed, cut, scored and folded myself. This tells you the length, ribbon type, colourway, and a link back to my Etsy shop to purchase more when you run out!
I try to keep packaging to a minimum, and use environmentally-friendly materials whenever possible. Quite often you'll find your sari silk ribbon order pops through your letterbox in a slim lightweight cardboard box – which keeps postage costs low and can be reused or recycled as you wish.
There will be many ribbon packs available at Stitch Fest South West next weekend (including some new shades!) so come over to have a look yourself and don't forget to say Hi!
Bags, staples and cardboard