Do you swatch?
Do you take the time to knit and measure a tension square with your chosen yarn before starting on your latest shiny new knitting project?
Often the answer is a resounding '"Pfft no I can't be bothered with/haven't got time for that!" – for me and many others.
Is it worth it?
Sometimes it really won't make any difference, such as if you're knitting an item that doesn't need to fit such as a bag, washcloth, scarf, shawl, or blanket.
Other times you may be knitting a fitted item but you already have experience of your yarn and needle combination. For example you may be knitting a sock using a pattern you've used before. If you've already knitted several pairs in various 4ply yarns you'll probably be aware generally of how many stitches works for your foot size and preferred fit.
However when it comes to garments fitting to your body (or first-time socks) then I totally recommend a tension square. It doesn't need to be too big – I usually do around 30stitches and 30 rows then measure it up.
How does a swatch help?
What it does for you is give you an idea of the finished drape of your yarn using that stitch and needle size.
If it's too solid you can go up a needle size and try a few more rows, whis is usually apparent after the first handful of rows. I have been known to knit a couple of garter stitch rows in the new needle size, then restart the pattern to measure for the gauge, without ripping back what I've already knitted!
If it's too loose you can go down a needle size and try a few more rows.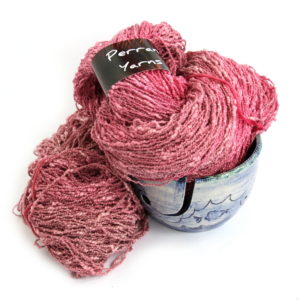 I find swatching essential when designing new patterns for our yarns. I will often end up with a rectangle of knitting including 4 or 5 different pattern sections. I use the swatch to try out different stitches from my stitch directories. The yarn type, weight, and colour variegation will work with some stitch patterns much better than others, and this can only be seen by taking the time and effort to swatch. Much better to spend time on a small piece of knitting than full project size.
An example of when to swatch
Our gorgeous cotton boucle yarn is a prime example of a yarn I would recommend that you swatch before launching into a large project. It's classed as a 4ply (fingering) yarn but because of the slubs it knits up much more comfortably as a light Double Knitting (light worsted) weight.
I recommend 4mm needles and a little square first, so you can end up with a beautiful drapey garment that you want to wear all summer!