Are you looking for unique knitting gifts for that special someone in your life? Scroll down and take a look at these seven amazing knitting gift ideas, suitable for all knitters whether they've just started or have been knitting for years. No matter what your budget is, I know I can help you give a gift that they will love!
1 awesome knitting gift for beginner knitters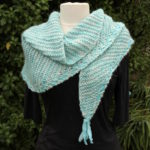 Garter Ribbon Shawl knit kit – for pure cosiness! The shawl is knitted widthways from point to point on straight knitting needles, with co-ordinating ribbon threaded through afterwards and tassels created at the points.
The chunky buttery-soft baby alpaca yarn is knitted on large knitting needles which makes this a quick project. The easy pattern is suitable for beginners who have mastered the basic stitches, or more experienced knitters wanting a quick project using a gorgeous handdyed yarn.
The kit includes 200grams of chunky baby alpaca, the co-ordinating handdyed recycled sari or chiffon silk ribbon, plus a printed copy of the knitting pattern.
One of my lovely customers bought this kit at a local yarn show, and told me that she had just got the hang of the knit and purl stitches. Just a couple of days later she sent me a picture of herself proudly wearing the shawl, enthusing about how much she had enjoyed knitting it!
2 sensational knitting gifts for intermediate knitters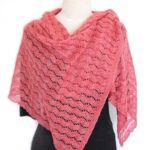 Tidal Wrap knit kit – for understated luxury! This rectangular-shaped wrap is knitted in an easy zigzag lace pattern with garter stitch borders. The luxurious silk and baby camel blend yarn results in a stunningly soft and lightweight wrap which is a delight to knit with and a treat to wear!
I recommend using straight bamboo or wooden knitting needles to easily hold the stitches in place during the project. This kit is a great introduction to lace knitting for intermediate knitters looking to try out finer projects.
The kit includes 100grams of Lace Tranquil yarn plus a printed copy of the knitting pattern.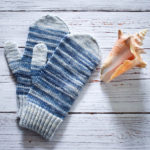 White Horses Mittens knit kit – for lovers of the great outdoors! These traditionally-style woollen mittens will keep your hands warm during chilly days.
This is a collaborative kit designed by JenStarKnits, inspired by powerful waves breaking on the beautiful Scottish coastline. It uses 2 different colourways of merino wool, which has been handdyed specifically for the kit. The wool is wound into yarn 'cakes' ready for use.The pattern is suitable for intermediate knitters, and is knitted on a long circular needle for a seamless finish.
The kit includes 2 x 50grams of DK Falkland Merino wool plus a printed copy of the knitting pattern.
3 stunning knitting gifts for advanced knitters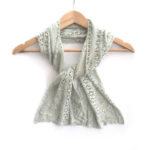 Flower Row Crescent Shawlette knit kit – for a special occasion! 
This pretty shawlette was designed by The Feminine Touch Designs to knit with one skein of our sumptuous silk seacell yarn.This kit is suitable for intermediate/expert knitters who like to explore different stitch patterns within a project. The pattern includes both written and charted instructions, so you can choose which to follow.
The kit includes 100grams of 4ply Silky Sea yarn plus a printed copy of the knitting pattern.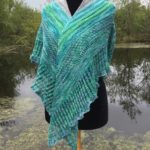 Zennor Mermaid Shawl knit kit – for a more substantial project!
This beautiful larger shawl was designed by Kate Whiting to use the custom yarn colourways which I have handdyed specifically for the kit. Kate has taken the waves of the sea, the mermaids' scales, still waters and the ripples of water and seaweed as inspiration to be depicted within the stitches that create this shawl.
The shawl uses 2 skeins of merino wool in a tonal colourway, plus 5 mini skeins of the same yarn in semi-solid shades co-ordinating with the tonal yarn.
The kit includes 2 x 100grams of 4ply Quarter Round yarn, 5 x 20grams of 4ply Quarter Round minis, plus either a printed copy of the knitting pattern or a code to download it from Ravelry.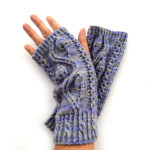 Pinnate Gloves knit kit – for cable design lovers!
This leafy pattern was designed by The Feminine Touch Designs to knit with one skein of our plump DK Falkland merino yarn.This kit is suitable for intermediate/expert knitters who enjoy cable stitch stitch patterns. The pattern is knitted flat, without any shaping, to allow you to concentrate on the cable design.
The kit includes 100grams of  DK Falkland merino yarn plus a printed copy of the knitting pattern.
These are just a selection of the original Perran Yarns knitting kits available – and remember we also stock straight and circular knitting needles to accompany the kits if required. Have a browse in my Etsy shop to see the full range.
[H2] How are the kits packaged?
All of these kits are available with a couple of packaging options. You can choose either 'No packaging' or the 'Ready to Gift Kit' option, depending on whether the kit is for you to make yourself or if you intend to give it as a gift. The packaging choice impacts on the materials used and the shipping cost of the parcel.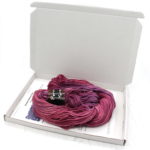 No packaging means the yarn will be wound flat in the mailing box on top of the printed pattern. This is the most cost-effective way to ship the kit via Royal Mail as it can generally be sent at Large Letter rates; it also minimises waste as it has no additional packaging.
Ready to gift kit means that the yarn is presented in the skein (or wound into yarn 'cakes'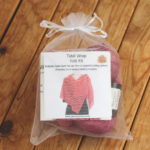 for the White Horses Mittens knit kit) with a folded copy of the printed pattern and a kit contents card packaged in a sheer organza drawstring bag. The kit contents card specifies a link to yarn winding instructions, and any applicable blog posts about the specific kit. This packaging has to be sent via Royal Mail's Small Parcel rates which are more costly than Large Letter. However the kit is ready to present as a gift and can be sent directly to the recipient along with a message and gift-wrapped if you wish – just choose the option at checkout. The drawstring bag can also be used as a project bag while the kit is being made!
Not sure which kit would be suitable, or looking for a stocking filler? 
No problem – just buy a Perran Yarns Gift Certificate from my Etsy shop!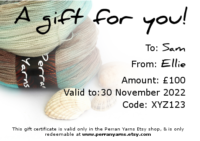 Gift certificates are available for amounts from £10 upwards, and are valid for up to 12 months. They make a delightful gift for a knitter as they can choose exactly what they like best!
You may be wondering how a gift certificate for my Etsy shop would work. It's really easy – let me tell you:
When you purchase I'll create a certificate with your specific code. You can choose email or postal delivery, either to you or direct to the recipient.
The recipient can purchase as normal from my Etsy shop and enter the code from the certificate at checkout to make the purchase.
If they want to purchase more than the certificate amount they can pay the outstanding amount at checkout.
If they purchase less than the certificate amount, after ordering I'll send them a new code for the remaining balance.
Easy!
If you have any queries, just contact me.
Happy knitting!
Steph x
7 amazing knitting gifts for the knitter in your life