Are you looking for inspiring crochet gifts for a crafty friend or relative? We've got ideas for you from £1.50 to £100+ to suit whatever budget you have available. 
Have a browse through these fabulous crochet gift ideas, suitable for all crocheters whether they are complete novices or crochet experts. No matter what their crochet skill level is, I know I can help you give a gift that they will love!
Cute crochet gifts up to £10
If you're looking for a useful accessory that will keep costs to a minimum, here are a couple of ideas to choose from!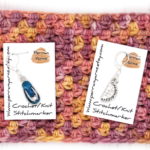 Crochet stitchmarkers – our cute handmade stitchmarkers are inspired by our surroundings, as we are located in beautiful Cornwall near to the renowned and much-loved Perranporth beach. The markers are sold singly, as crochet projects often only require one marker. We make these with a clasp fastener so they can be used for either crochet or knitting projects – twice as good! 
Choose your favourite design from a flip-flop with a sparkly rhinestone or a Cornish pasty! Perfect as a stocking filler or a 'thank you' gift, or to remind you of your favourite holiday.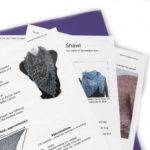 Crochet patterns – we have a wide range of crochet patterns suitable for a wide range of crochet skill levels. The downloadable patterns are available for scarves, cowls, shawls, mitts, and blankets using laceweight to chunky yarns. Either email the pattern to your recipient or print it to include with a card – so easy to post!
To make this a more substantial gift, why not buy a selection of patterns, print them out, and give them in a folder to keep them organised.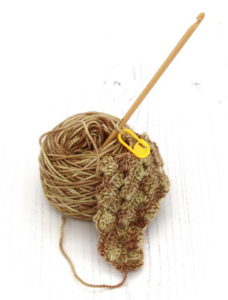 Crochet hooks – to crochet you will need a crochet hook! Even if you already have a few different sizes, it's always good to have extras so you can keep your hook with your project. Well everyone has multiple projects on the go don't they? No? I've never been able to resist starting another project even though the current one isn't quite finished!
We stock smooth and comfortable bamboo hooks starting from under £5, or you can opt for the slightly higher price version with a beautiful Olivewood handle.
Inspiring crochet kits under £25
If you love to make, it's always a delight to receive some luxurious materials and kits to create your own items! Our original design crochet kits make fantastic gifts for crafty people.
Our kits all include a printed copy of the pattern together with enough of the handdyed yarn to complete the project, in your choice of colourway.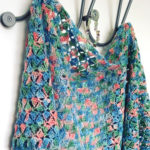 Light & Lacy Shawl crochet kit – This popular design is a great choice for a gift as it's an easy pattern that will suit many skill levels. We have a blog post detailing exactly how to start it off, so it's achievable for anyone who has mastered the basic stitches. 
The finished shawl is beautifully soft and ideal to wear from autumn to spring. There is no seaming to do or edging to make after the main body of the pattern. Just continue until the yarn is all used then block it (i.e. give it a rinse and pin it out flat to dry, to open up the pattern) and it's done! 
Available in 18 different colourways, there's something to suit all tastes.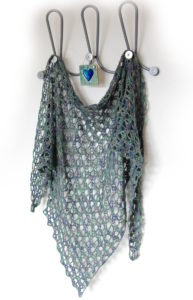 Tehidy Shawl crochet kit – This beautiful design was inspired by our local Tehidy Woods here in Cornwall, as the stitch pattern looks like little trees! The open finish and luxurious silk and baby camel blend Tranquil yarn gives a dressy design ideal for a special occasion. The stitch pattern makes this a kit better suited to intermediate and more experienced crocheters.
This design is available in 10 beautiful colourways.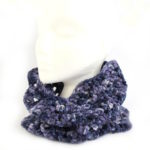 Chevron Cowl crochet kit – This kit is a satisfying quick project made using a soft chunky pure merino wool. It is crocheted around in a circle in an easy chevron design to give an easy-to-wear cosy pull-on scarf.
Available in 10 different colourways, this will be a welcome winter project.
Awesome crochet gifts from £55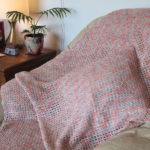 Snuggle blanket crochet kit – For a more substantial luxury project, try our Snuggle blanket crochet kit. It comes with 300grams of Lace Decadence yarn – a gorgeous Bluefaced Leicester wool and silk blend yarn which is beautifully soft and cosy, with a fabulous drape and sheen. The finished blanket is bouncy, soft and super snuggly – ideal to throw over the back of your sofa and wrap around you on cold winter evenings.
The pattern is an easy corner-to-corner design which can be mastered by any crocheter who has got to grips with the basic stitches.
Available in 10 colourways, this kit is dyed to order.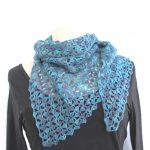 Luxury readymade crochet shawl – Do you love crochet but haven't mastered it yet? Or perhaps you're looking for a finished crochet item in a luxury yarn?
In that case take a look at the readymade shawls, scarves, and mitts available in our Etsy shop. 
Prefer to give the gift of choice?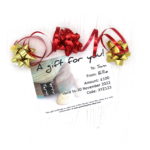 If you're not sure which is the best gift then why not let the recipient choose their own? Simply purchase a Perran Yarns Gift Certificate from my Etsy shop and they can pick whatever they like! 
Our gift certificates are available for amounts from £10 upwards, and are valid for up to 12 months. They make a fabulous gift for a crocheter as they can choose exactly what they like best, even if that means making several smaller purchases over the 12 months that the certificate is valid.
When you purchase I create a custom certificate with your specific code. You can choose email or postal delivery, either to you or direct to the recipient.This means it's an ideal gift if you're purchasing for somebody who lives abroad.
The recipient selects their items as normal from my Etsy shop and enters the code from the certificate at checkout. This removes the certificate value from their order.
If there's any outstanding balance it is paid as normal.
If there's an outstanding amount remaining on the certificate, after ordering I'll send them a new code to use on their next purchase for the remaining balance.
No problem!
If you have any queries, just reply to this email, or pop me a message on social media or at my Etsy shop.
Happy crocheting!
Steph x
9 fabulous crochet gifts to suit all budgets