A crafter's treasure trove in St Ives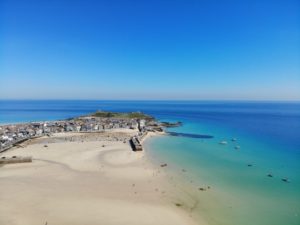 Whether you live in Cornwall or are staying for a few days on holiday, you'll want to make the most of a day out in beautiful St Ives. 
There are many interesting places and beautiful beaches to see there, plus a wide range of fabulous cafes and restaurants to enjoy. 
Of course if you love knitting, crochet, sewing, or other textile crafts, then a great craft shop such as The Craft Tree will be high on your list of places to visit!
When you've finished your wonderful day out and head back either to your home or holiday location, it's exciting to empty out the bags from the day. It's a delight to re-discover your newly-acquired craft supplies and kits, ready to enjoy some relaxing crafting in the evening. Of course if you've invested in some craft kits to give as gifts you'll have to resist opening them! Either way it's lovely to take home something to remind you of your visit.

If you haven't already looked up the address, you'll probably stumble across The Craft Tree while browsing the interesting shops and businesses lining St Ives narrow cobbled streets. 
But then if you're anything like me, you'll probably have spent time searching on Google a couple of days beforehand for craft shops to visit anywhere near to where you're heading!
When you get there, don't be fooled by the small shop window. Inside you'll find a vibrant treasure trove with many shelves full of craft supplies, kits, and accessories. The shop is long and narrow, with even more fabrics and accessories to delight upstairs! 
The business is run by the friendly and creative Samantha Perkins. You'll often find Samantha working on a craft kit or sample herself, stashed behind the incredible countertop made of dozens of colourful buttons set in resin – worth a visit to see in itself!
We asked Samantha to tell us about how she came to open her inspiring craft shop, plus her 5 top tips for things to do and see during your visit to St Ives. Over to you Sam…
Can you tell us a bit about The Craft Tree and where we can find you?
The Craft Tree is located in Fore Street, St Ives, opposite the Digey – one of the most iconic streets in St Ives. The shop was an art gallery for many years and many moons ago it was a Doll Hospital, I am told!
What crafts do you cater for?
The Craft Tree is a colourful Aladdin's cave of yarn, fabric, haberdashery and craft kits!
We have many main stockists including:
Scheepjes – yarns, patterns and accessories

Toft – British wool and knitting/crochet kits

Corrinne Lapierre – felt craft kits

The Cotton Craft Company – high quality specialty fabrics

The Crafty Kit Company – needle felting and craft kits

Hawthorn Handmade – embroidery kits
We also stock a growing range of independent and local knitting and crochet yarns, plus sewing patterns.
Tell us a little about why you started The Crafts Tree
The Craft Tree started in September 2020. I was working as a designer dressmaker specialising in bridal wear and alterations when the pandemic halted my business, as it did many others.
I have always been very craft oriented and constantly dreamed of having a fabric or craft shop of my own, but never had time to explore it further. Luckily for me the pause that covid brought about gave me the opportunity to fulfil my lifelong dream! I am delighted to fill my shop with colour and inspiration for a wide variety of crafters to enjoy.
I am continually growing my business and hope to extend my range of indie yarn dyers, such as Perran Yarns, as time goes on.
What's the one thing you love about working in St.Ives?
I am a St Ives girl through and through, with many generations on my fathers side hailing from our beautiful town. I feel amazingly lucky to have a shop in my home town, and hope that locals and visitors will come to see me for many years to come.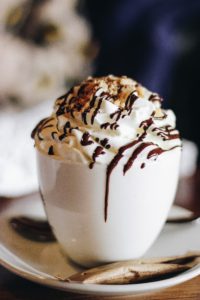 As a tourist what are your top 5 things to see and do in St. Ives?
The Tate St Ives – a famous art gallery exhibiting work by modern British artists with links to the St Ives area
Barbara Hepworth Museum and Gardens – the home and studio of the renowned 20th century sculptor for 26 years
The Island – not really an island but a small, grassy peninsula which is a popular stopping-off point for migratory birds. Take a walk around it and visit the chapel atop the hill. Look out over the bay to see if you can spot dolphins and other marine wildlife in the surrounding waters.

Wander down the back streets to find the smaller galleries and cafes. Enjoy a crab sandwich or a cream tea too!

All the glorious beaches!
Thanks Samantha!
Perran Yarns at The Craft Tree
The Craft Tree's stock currently includes Perran Yarns – specifically our DK Wool Cotton – in various beautiful repeatable sea-themed colourways such as Sandy Toes and She Sells Seashells.
Just one skein of this soft yarn is all you need to crochet our free No Fuss Cowl pattern. It takes just a few hours to make, so you'll have a new cool weather accessory in no time!
If you prefer knitting, why not try the Honey Cowl which is a free downloadable pattern on Ravelry. It's an easy knit design by Antonia Shankland which I've knitted using one skein of the DK Wool Cotton in shade Deep Forest. It's an enjoyable quick project, which makes a very useful accessory which is soft and comfortable to wear.
When you buy some of our yarn from the Craft Tree, we love to see which colourways you chose and what you make with your purchase! Tag @perranyarns along with @thecrafttree_stives on Instagram or @crafttreestives on Facebook to show off your projects.
Happy knitting and crocheting!
Steph x
A crafter's treasure trove in St Ives