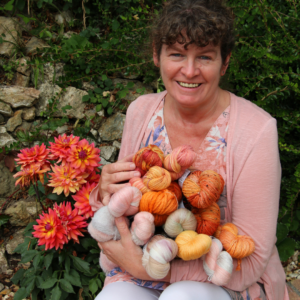 I can't quite believe I'm typing these words, but the 2nd of September was my first full day, 100% employed in my dream job!
I worked my last day in the world of tech in August and I'm now fully focused on following my true passion – creating luxury yarns for you to knit and crochet with.
There are so many possibilities ahead for Perran Yarns and I am thrilled to have you join me along the journey.
In the immediate future, of course it means I have more time for dyeing yarn, so you can expect a fully stocked Etsy shop with your favourite colourways, plus a few new ones. Hit 'reply' and let me know what you'd like to see and I will add it to my dye list.
I am truly amazed that I'm at this point, which for many years was so much a dream that I didn't dare even contemplate it. Life has changed drastically for so many of us in the last 18 months, and in it's own way that has helped to bring me to this fantastic stage. Of course I wouldn't be here without you, my dear customers, to whom I am deeply grateful. 
If you have any suggestions, requests or queries about yarns, colourways, projects, or anything knitting or crochet related, get in touch and I'll see what I can do to help!
So what's next now I am a full time indie dyer?
Next up are two things: firstly, dyeing and delivering the Perran Yarns 2021 Advent Calendar and secondly, helping finish the outside of my garden dye studio.
The Yarn Advent skeins are almost all dyed now; once they're finished I'll concoct a unique co-ordinating colourway for those of you who have purchased the extra skein for Christmas Day. Even I don't know what it will look like yet!
After the dye pots have been put away, there's still lots of work to be done to get the advents ready to post out at the end of October. It's rolling around so quickly; not long to go! I'll be carefully organising, packaging and numbering them, so you have a lovely surprise each day in December.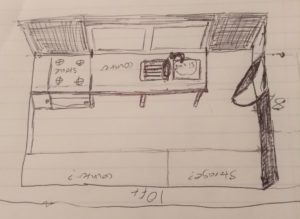 As for the dye studio, it's been quite a journey and this was the start of it all! This was our original sketch to gather our thoughts on what I wanted in the new dye studio. My lovely hubby drew it in September last year – the 12 months of making it a reality since then have flown past!
The components of the kitchen are all in there now although the layout is different. Projects like these develop organically as they progress, and we felt it best to let the build lead us as it came together.
The dye studio is a fully-working top-spec kitchen – which has highlighted the need to refurbish our own home kitchen once the studio is completely finished!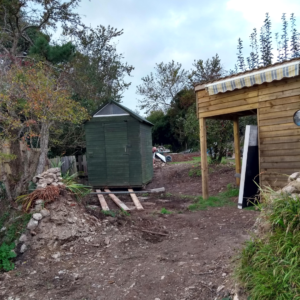 Before any construction could begin, there was a lot of groundwork to be done. Hubby hired a mini-digger and spent several weekends moving tonnes of earth to level out the area. Next was relocation of an existing shed – involving 3 of us pushing and maneuvering it on metal pipes and planks, Egyptian-style!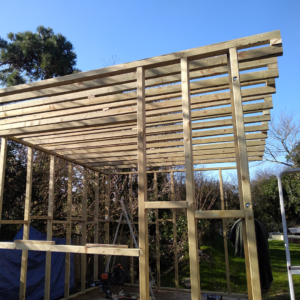 The studio was built with a wooden frame and boards, with the cavities packed full of wool insulation of course! It's a great product for heat and sound insulation, and it's fire retardant, so ideal for the studio.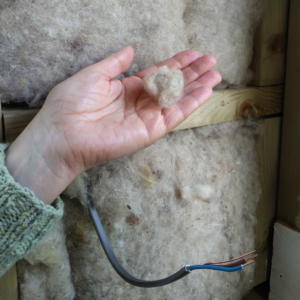 We saved costs on the windows and doors by thinking more environmentally. We bought upvc windowframes that had never been fitted as they were mis-measured. The fully-glazed doors came from a local door fitter who had removed them when fitting replacements for a customer, although they are almost like new!
We chose a rubber roof which should mean minimal maintenance and will last for years.
Inside, I have a touch-control hob for my dye pots, with a powerful extractor with led lighting so I can see exactly which colours I'm blending.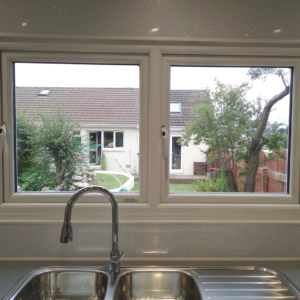 The sink is a double deep stainless steel one with flexi-head tap and a great water heater.
I have masses of worktop to lay out yarns for handpainting, and a full-length sturdy wooden shelf so my dye pots are all instantly to hand. Hubby even fitted led lighting under the shelf so those dye colours are crystal clear!
As you know I have the fabulous white sparkly wall cladding, and plenty of daylight downlights fitted in the ceiling so I can see the colourways easily even in the middle of winter.
If you'd like a look around the finished interior of the dye studio, keep watching my Instagram and Facebook pages as I'll be posting one there soon!
We're planning to finish the outside of the studio soon, so it's all ready and protected against the winter weather when it arrives. We just have exterior cladding to do on the building itself, then some gravel and wall landscaping to incorporate it into our garden properly.
Of course once that's done I'll post another little walk-around to show you.
In the meantime, happy knitting and crochet!
Steph x
I'm a full-time Indie Dyer!