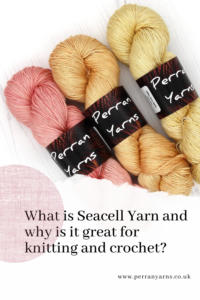 I get a lot of questions about the yarn blends I sell, in particular about my Seacell yarn. Today on the blog I want to share with you exactly what Seacell is and why I have chosen it in a blend with Silk, to make the most amazing luxury yarn for your knitting and crochet.
What exactly is seacell yarn and how is it made?
Seacell as a fibre is universally used as a blend with something like Silk for knitting or crochet, to make a beautiful non-wool yarn.
The Seacell itself is derived from seaweed, but you won't smell the sea when you use it!
Producers harvest a seaweed species called Knotted Wrack, which is a brown seaweed notably found around rocks and rock pools, along the shoreline. It is commonly found around the Great British and Irish isles, but is also found in other areas of the North Atlantic Ocean, like the Icelandic Fjords.
The manufacturing process creates filament fibres through a solvent spinning process, just like Lyocell, where dissolved cellulose (wood pulp) is introduced to strengthen and complete the filament fibres for spinning.
The resultant fibre is both breathable and lightweight when spun into yarn and the fabric you knit or crochet is soft and reportedly moisturizing against the skin (where the properties of seaweed remain).
These fibres are then spun with any additions, such as Silk, in Perran Yarns case, to create the final luxury yarn, that I dye onto. The finished handdyed yarn gives you a non-wool option, with no lanolin, so if you suffer from allergies to wool yarns, this could make a great substitute!
Why I picked a blend of Seacell with Silk
Seacell on it's own can be quite slippery to knit or crochet with, because as a filament fibre it has no scales (as you would get on animal hairs, or natural plant fibres) to create grip against your needles. This is why you will often see this plant based fibre blended with something like Silk.
Silk is quite often referred to as the most similar natural fibre to Seacell and whilst there are differences, once spun into a blended yarn, they both play a crucial role in the look, feel and workmanship of the yarn in your projects. Seacell is breathable and lightweight and the addition of Silk adds more weight, a little more grip and outstanding lustre.
I saw a Seacell blended yarn at a Knitting Show at the NEC in Birmingham, before I started dyeing yarns; I was enthralled with the softness, drape and sheen, and vibrancy of the final dyed colours. When I found a supplier of the undyed yarn I had to give it a go. It's the most expensive yarn I stock per skein, but so worth it!
I find the combination of Seacell and Silk works well in a 4ply yarn particularly, as it is great for shawl knitting where the bounce and memory of the yarn allows for complex stitch work and the occasional unpicking!
Here are just some of the colours I stock:
You can see what's in stock today by visiting my shop here.
How a Seacell and Silk blended yarn knits and crochets
Combined with lustrous Silk in our 4ply, this Seacell and Silk yarn is incredibly soft and smooth, with amazing sheen and fabulous depth of colour, perfect for that stunning unique lace scarf to drape around your shoulders on a summer evening.
It has oodles of drape, so it gives a slinky finish to your accessories, meaning you can dress up an outfit with a hand knit that you might not otherwise do with a standard 100% wool yarn.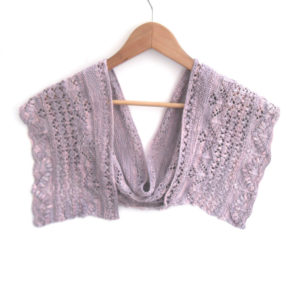 Yorkshire-based knitwear designer Sandra Nesbitt designed the Flower Crescent Shawlette specifically to showcase a single skein of this fabulous yarn. The knit kit includes a printed copy of the intermediate lace pattern (with written instructions and charts) together with one skein of Seacell Silk yarn in your choice of colour. It's a fabulous choice if you enjoy more intricate stitchwork and following charts!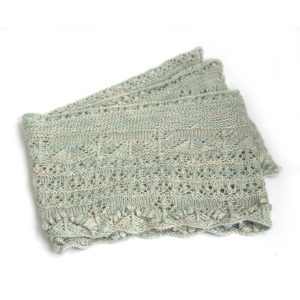 Tips on how to find the perfect pattern for your Seacell Silk Yarn
There are a few things you will need to bear in mind when working with Seacell and Silk blends in your knitting and crochet. These are:
Don't expect a structured finish, instead you'll get lots of drape, so avoid sweaters and think accessories!

– due to the draping nature of this yarn, it is unlikely that a full garment knit will work. The weight of the yarn and the stretch could make a simple shape look like it sags. Instead concentrate on shawls and cowls, which will show off the lustre, colour and softness of this amazing yarn. I'm designing a few new shawl patterns to work with this yarn, so

sign up to my newsletter to get news on the release

!

Consider your stitchwork

– Whilst the yarn itself does have good memory and will tolerate more complex stitchwork, or lace stitches, if you are more of a beginner then I would suggest picking a pattern that isn't too complicated. The reason for this is that the slippery nature of the yarn might make the process of knitting and crochet tiresome, as you occasionally lose grip with your needles. Those more advanced will be more used to working with different yarns and so complicated stitches with slippery yarn will feel easier to cope with.
Bonus tip! It's slippery yarn, so choose the right needles for extra grip – Bamboo or wooden needles give you a little extra grip as you knit or crochet and would certainly help handle a more slippy yarn like our Seacell and Silk blend. I have some in my shop if you need them.
My favourite pattern choices for my 4ply Seacell Silk yarn are:
Our

Flower Crescent Shawlette

(knit) – 1 skein

Our

Tehidy Shawl

(crochet) – 1 skein

Available soon – Our Mini Skein shawl (knit) – 1 skein

Our upcoming Vortex Shawl (knit) – 1 skein

'Close To You' shawl

, which is a free pattern by Justyna Lorkowska on Ravelry – 1 skein

'Bias' shawl, a pattern by Helena Bristow available to purchase on Ravelry – 1 or 2 skeins
If you have a project in mind that requires more skeins, take a look at the new co-ordinating semi-solid sets that I'm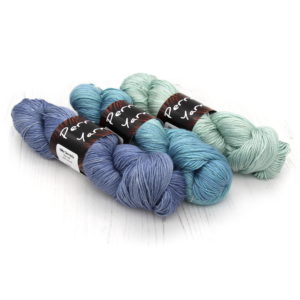 dyeing. If you have a particular colour combination in mind, drop me a message and I'll be happy to dye it for you!
Happy knitting!
Steph x
What is Seacell Yarn and why is it great for knitting and crochet?