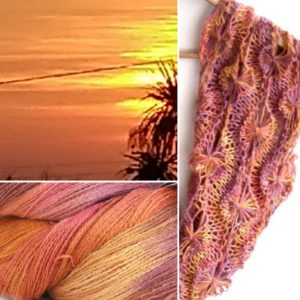 A benefit of living near the Cornish coast is being treated to glorious sunsets over the Atlantic coastline. The amazing colours that change so quickly as the sun sets are a constant source of wonder and inspiration.
The warm rich tones also happen to be amongst my favourites to wear – happy colours! I love to feel the sun on my skin, and these colours put me in the same mindset even on cooler days.
Our 'Sunset Party' colourway is shown above in the skein of Heavenly Lace and also knitted into the Flowery Infinity Scarf in DK Summer Luxe. The short bursts of each colour blend beautifully when made into a project, with minimal colour pooling.
Find your favourite warm or cool colourways in our Etsy shop, or contact us to have a custom colourway dyed!