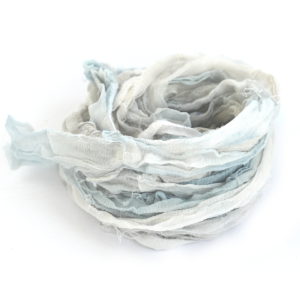 Ocean Breeze is the latest colourway to be dyed on our recycled chiffon silk ribbon, available in 10metre (11 yard) packs from today.
The colourway is made up of the palest hints of blue and silver grey amongst lengths of off white – you can almost taste that saltwater ocean spray!
If you are looking for a particular colour combination on recycled sari or chiffon ribbon and don't see it in our shop, just contact us and we'll see what we can do!
New ribbon colourway – Ocean Breeze