I'm thrilled that the recycled sari and chiffon silk ribbons that I hand-dye are so well-loved and have used the pictures of them in a new way – to create printed fabric!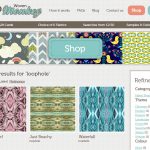 There are 3 designs available currently:
Sorbet Swirl – from the Buddleia colourway
Just Beachy – from the Sandy Toes colourway
Waterfall – from the Moonscape colourway
You can find them on Woven Monkey by searching for any of the design names above or 'loophole' to see them all. They can be printed onto a variety of fabrics which you can then buy in the size you need for your sewing projects – a 20x20cm test swatch, fat quarter, or by the metre.
I'd love to see some finished sewing projects in these so don't forget to share your pictures!
loophole fabrics are here!