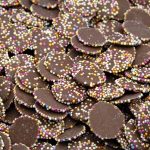 Anyone remember the Jazzies sweets from your childhood? They were my favourite! When I came across the yarn equivalent recently I couldn't resist.
One of our new bases for this year is this gorgeous 4ply merino with a bright rainbow donegal fleck. A 100gram skein has a standard 400metres, making it versatile enough for socks, a scarf or similar project.
So far it's jumped in the dye pot to join in with the Unicorn Clouds, Years Gone By, and Ocean Blue colourways, available in our Etsy shop.
Would you like this in a particular colourway? Let me know and I'll arrange a custom dye order!