A love of luxury yarns goes hand-in-hand with a love of good food, at least in the Perran Yarns household! We're making a few changes to our meals lately as food intolerances have made themselves known.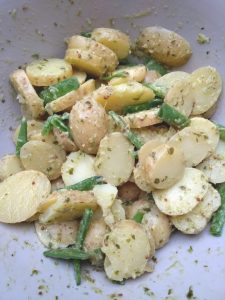 Today I tried this recipe for herby mayo-free potato salad from Cookie and Kate, to take along to a family birthday buffet – we all take a couple of dishes to help out. The result is so delicious I had to share it with you!
I quite often make recipe changes to fit what we have in the cupboard, and this was no exception.
I swapped:
1tsp wholegrain mustard instead of 2tsp Dijon mustard
fresh basil instead of parsley
chopped mangetouts instead of chopped celery
This is going to be my default potato salad recipe from now on, with the addition of some chopped homegrown chilli when it's just for us!