Well that was an unexpected break! The second half of March was filled with preparation for Buckfastleigh Wool Gathering and then RHS Garden Rosemoor Wool & Yarn Fest, but I'm not sure what happened to the rest of April!
Both shows were amazing – I hope you got chance to go to one or more of them.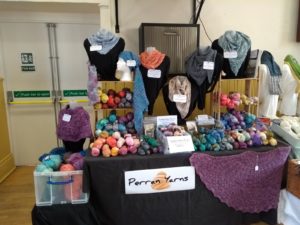 Mother's Day was celebrated at Buckfastleigh Wool Gathering; my first time there. The show was well-attended with a lively buzz, and it was great to see some familiar customers as well as meeting new ones.
One of our latest lacy crochet shawl samples made in the gorgeous new Decadence Lace was on display in colourway 'Years Gone By'.
The sample worked perfectly to show off the beautiful sheen and drape of this heavy laceweight yarn. It appealed to quite a few customers, who treated themselves to this new project in various colourways!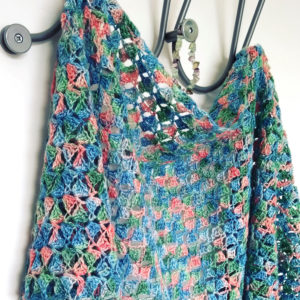 The yarn is a wonderful blend of 55% British Bluefaced Leicester wool and 45% silk, which feels fabulously soft and smooth against the skin.
It dyes with a fantastic depth of colour, as you can see from the 'Years Gone By' shade. Each 100gram skein contains 600metres of yarn, giving a lovely size shawl from just one skein.
I'm starting to list this fabulous new yarn in my Etsy shop as I get chance to dye and restock more colourways. As always, the crochet lacy shawl pattern is free with your purchase!
Mother's Day at Buckfastleigh Wool Gathering