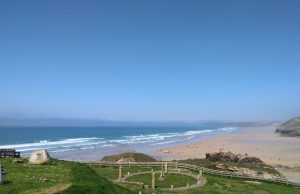 Finally (fingers crossed!) we seem to be heading towards warmer weather, which of course will affect the projects and yarn you want in your hands and lap.
One of the most useful summer garments I ever knitted was a cap-sleeved shrug. I designed the pattern and used a few balls of raspberry colour cotton blend yarn I had in my stash. It finished just below the ribs, sloping away at the front, and fastened with a pretty silver clasp on the bustline. I happily wore it for several summers, mainly as an added warmer layer in the air-conditioned office I worked in.
For summer projects I would now of course use my own handdyed Perran Yarns cotton or bamboo  yarns!
The soft cotton slub megaskeins we stock are plenty for a summer top; each skein weighs in at just under 500grams. Although these are classed as 4ply, when knitting up they are better-suited to being treated as a lightweight DK, so 4mm needles work well.
The bamboo skeins are a true DK and are sold as 50gram skeins, so you can buy just enough for a small summer project.
All of these skeins are non-repeatable, although other colourways will also be dyed, so make sure you buy enough for your project.