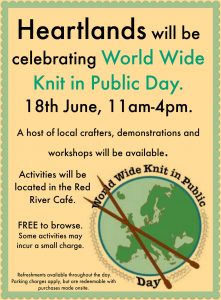 It's that time of year again already, a day to sit and knit (or crochet) with friends old and new, knowing that thousands of others in countries all around the world are doing the same – World Wide Knit In Public Day.
As usual the Cornish event will be held at Heartlands, where you'll find Perran Yarns along with 16 other local crafter/producers and a whole host of crafty people who share your love of yarn!
Bring along your current WIP, or come along to learn something new.
See you there!