One of my goals for this year is to create up to 3 new colourways each season.
I seem to be drawn to pale blues at the moment, recently adding a pale blue and white linen dress and mid-denim blue waterfall cardigan to my wardrobe.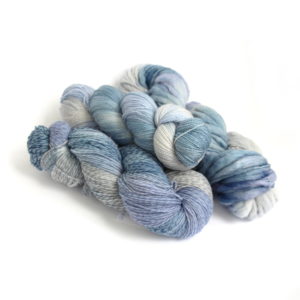 So in the same frame of mind, here is the latest Perran Yarns colourway, Soft Denim, shown here on laceweight, 4ply and superchunky yarns.
Keep an eye on the shop if you'd like one in your yarn stash – or contact me to order this colour on your choice of yarn base!
Colourway update – Soft Denim