In an earlier post I mentioned that we've been making some changes regarding printing lately.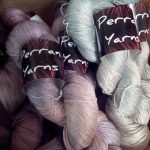 The big change that you will easily notice is our new labels!
We've switched to skein bands, and they are being printed commercially instead of by me at home, which allows for a more colourful design on heavier card so the labels won't crease as easily.
For me, it also means that I save time printing and cutting up the labels. As I run Perran Yarns alongside a 30-hour per week IT job and looking after my family, this is a really beneficial step.
You'll still find the individual yarn details on each label of course, but they are printed now on a sticky label that holds the skein label around the yarn.
I'll be adjusting the layout as I go along, so if you have any suggestions or comments please do let me know.