Solve your gift puzzles at LilyBoo!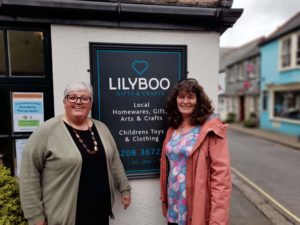 Whether you're local to Cornwall or visiting for a short break, you'll find Lostwithiel is well worth a visit. It's an ancient tin-mining town dating back to the 12th century, now known as the antiques centre of Cornwall.
It's small enough to wander around easily, with an interesting variety of shops and cafes. Lostwithiel is situated at the head of the estuary of the river Fowey, and you can enjoy a stroll around the riverside park as you explore the town.
The town's name is believed to come from the old Cornish word 'Lostgwydeyel' meaning 'the place at the tail of the forest'.
One of the beautiful shops you'll find is LilyBoo gift and craft shop, run by the helpful and creative Hayley Dorrington.
You'll find Hayley in the shop several days each week, so we arranged a visit to meet up and have a look around her inspiring shop. I couldn't resist choosing something from the fabulous selection of gifts and homewares in stock, and so didn't come away empty-handed!
We asked Hayley to tell us about how she came to open her tempting gift and craft shop, plus her 5 top tips for things to see and do when you visit Lostwithiel… Hi Hayley!
Please tell us where LilyBoo is located
LilyBoo is located in the centre of Lostwithiel in Fore Street. It's a beautiful shop dating back from the 1880's and set over 2 floors. The shop is open 7 days a week from 10:30am to 5pm.
What crafts do you cater for?
We have several different craft options at the shop from wool and soon to be thread.
We have numerous craft kits from knitting, crochet and embroidery to lino cutting, lampshade making and sewing projects.
We are also in the process of setting up craft workshops.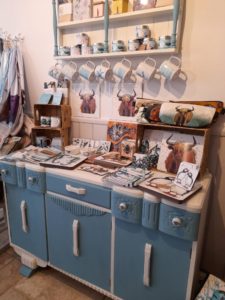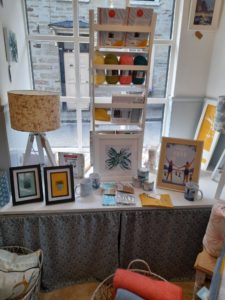 Tell us a little about when & why you opened LilyBoo
We have had a little shop in Fowey called Lazy Jacks for the past year and most recently made changes to increase the gift range. It's always been important for me to support local businesses and therefore we stock lots of Cornish items there.
This really gave the idea for expanding into another shop, supporting local crafters and suppliers.
I also love making and creating items so the blend that someone could buy a gift but could also get something where they could have a go at making it themselves worked really well.
The shop in Lostwithiel came up earlier in the year and was a perfect match for us.
What's the one thing you love about working in Lostwithiel?
The community: Lostwithiel is very unique in that it is full of independent shops and the community is very supportive of this. We have had such positive feedback and support; it's been a joy to go to Lostwithiel every day.
As a tourist what are your top 5 things to see and do in Lostwithiel?
Have a walk down by the river – it's really lovely
Stroll around the shops, they are all unique and creative in their own way
Visit the cafes – they are really good!!
Take time to look at the history of the buildings (and nearby Restormel Castle)
Join in on the events that happen, especially at Christmas and New Year

Thanks Hayley!
LilyBoo is a stockist of various Perran Yarns knit and crochet kits, gift boxed and ready to gift or treat yourself! You'll see samples of the kits displayed around the shop, so you can feel the softness of the luxury yarns and see the colours and sizes on a hanger rather than just in a picture.
For knitters you can choose from the Tidal Wrap and Flowery Infinity Scarf knit kits. The Tidal Wrap is ideal for lace knitters, using a skein of Tranquil Lace silk and baby camel blend yarn. The Flowery Infinity Scarf is a complete contrast, made with a DK baby alpaca, linen & silk yarn on a chunky 10mm circular needle!
If you're looking for crochet kits, there are several colourways of the Tehidy Shawl and Light and Lacy Shawl available. The Light and Lacy Shawl is ideal for confident beginners using the drapey Decadence Lace BFL wool & silk blend yarn. For more experienced crocheters, opt for the Tehidy Shawl made with sumptuous baby camel and silk 4ply yarn.
When you buy our kits from LilyBoo, we love to hear which ones you chose and whether they're for yourself or for a friend! Tag @perranyarns along with @lilyboolostwithiel on Instagram or Facebook to show off your purchases.
Happy knitting and crocheting!
Steph x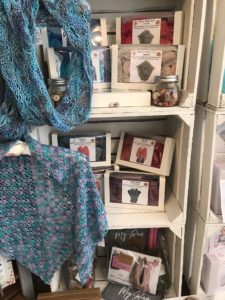 Solve your gift puzzles at LilyBoo!