Just in time for summer, I'm thrilled to introduce you to my latest new yarn base – a wonderful linen bamboo blend 4ply!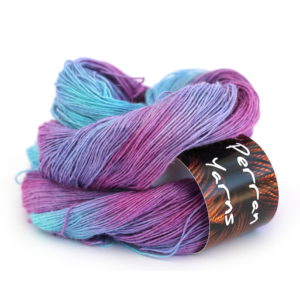 This plant-based yarn may feel a little stiff to start with, but should soften and get even better the more you work with it and wash it.
Why is this a great fibre combination?
Bamboo yarn is natural fibre yarn made from pulped wood and leaves of the bamboo plant. It has many ecological advantages over cotton, and will completely biodegrade after it's useful life. The yarn is lightweight and strong with good wicking properties, making it a great choice for summer clothing.
Linen is spun from the long fibres that grow inside the stems of the flax plant – one of the oldest cultivated plants in human history. The flax plant soaks up carbon dioxide from the atmosphere as it grows, requires very little water and no pesticides to thrive. All parts of the plant can be used, resulting in very little waste, and the yarns and fibres produced can be recycled or composted as they decompose naturally after their useful life. Linen is highly absorbent and a good conductor of heat, quickly removing perspiration from the skin.
So overall this is a great summer yarn which you can work with knowing that it's sustainable to produce, wonderful to wear, and will decompose naturally when it's past it's useful life. Much the same as wool, but for vegans and those with skin sensitivities – a win for everyone!
The yarn available in my Etsy shop but if you'd like to feel it for yourself first, then come along to our next event to have a look!
Meet the new linen bamboo blend vegan yarn!