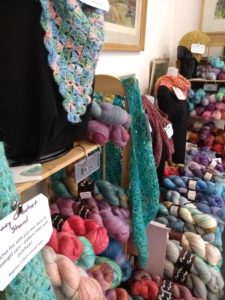 It's that busy time of year where I'm out and about regularly at the local wool shows around Cornwall and Devon. It's an exciting time – and very busy alongside my IT day job too!
Thanks to all of you who came along to Liskeard Wool Market and Kelly House Woolly Weekend; it was fabulous to chat to you all. It was great to see a host of familiar faces alongside lots of new ones too. Liskeard Wool Market was on a Saturday instead of a Friday, and many new visitors turned up to the 9th Woolly Weekend after hearing about it for the first time.
I hope you're all enjoying your yarn and kit purchases. I'd be thrilled if you would share pictures of your in-progress projects and finished items on Facebook and Instagram if possible. Tag @PerranYarns and I'll get a notification. It's fascinating to see the colourways once they've been knitted, crocheted or woven in comparison to when the yarn is in the skein.
My Etsy shop is open again after stocktaking, so if you saw something at the shows that you'd like to get now, then pop over to the online shop – UK delivery is no extra charge!
I have a couple of weeks to catch up and restock more of the colourways before the next show, which is Stitchfest South West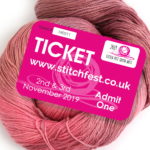 at Totnes. I travel and exhibit alongside Caroline from Gorgeous Yarns and we always have a fun weekend. In the meantime, while I have the dyepots out, let me know if you're looking for a particular yarn base and colourway combination and I'll see what I can dye for you.
If you'd like to be in with a chance to win a couple of free tickets to the show, hop over to my Facebook or Instagram post and follow the instructions!