It's been a while! We had a great time at Ocean Artists and Makers Summer Market back in July – Royal William Yard in Plymouth is fabulous venue! That's the first time I've been there and I'll definitely be going back; there's a whole host of events there year round.
Summer then took priority, with sunshine, beach days and family time to be enjoyed. It's my absolute favourite time of year – when the sun is out, all I want to do is be outside basking in it.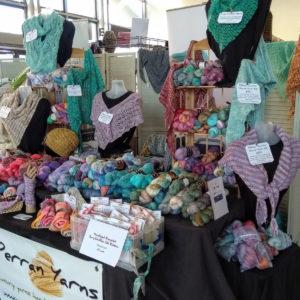 At the start of September I took part in the Southern Wool Show for the first time at Newbury Racecourse. After the epic 7-hour journey thanks to excessive traffic, it turned out to be a fun weekend. The show was fabulous – well-organised and busy, with lots of small and larger yarn companies offering a wide selection of yarny goodness!
Fast forward to October and this weekend marks the start of the autumn run of events.
First up is the popular Liskeard Wool Market, this time being held on Saturday 5th from 12 noon to 5pm. It's a fabulous event with a great buzz of excitement and a good selection of stallholders.
I'll be there with 2 new yarns added to my wide selection of luxury yarn bases, plus a couple of new kits too.
Parking is easy thanks to a large car park just down the road, so come along and enjoy the woolly vibes!
Summer has been and gone!