What are recycled sari and chiffon ribbons?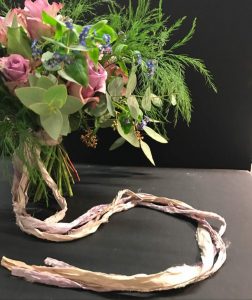 Alongside luxury yarns for knitting and crochet, I also hand-dye packs of recycled sari and chiffon silk ribbon, available in my online shop. They are a by-product from the manufacture of sari silk; the strips of fabric are tied or sewn together by women's cooperatives in India, and sold in 100gram skeins. I hand-dye these in similar colourways to the luxury yarns, and measure them out into 10metre packs.
What can the ribbons be used for?
The raw-edge ribbons are great for a wide range of rustic craft projects, making the most of the sari silk fabric scraps.
Sometimes I am asked how the ribbons can be used. Whilst they can be knitted or crocheted, as they are sold in 10 metre packs, they would only be suitable for very small projects. Take a look at the following ideas for other inspiration.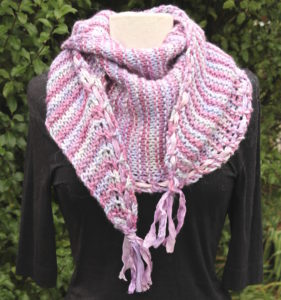 1. Knitwear/crochet embellishment/fringing – as seen in the Garter Ribbon Shawl knit kit. This kit includes my handdyed supersoft chunky baby alpaca yarn together with co-ordinating handdyed recycled sari or chiffon silk ribbon to weave through as an edging and finish off with tassels as shown.
2. Dreamcatchers – the sari silk ribbons make fabulous fringes as they have a lovely weight and sheen.
3. Textile jewellery – eg wrap bracelets or silk beaded necklaces as shown below
4. Tassels – to make into boho earrings, bag charms, or adding to just about any project!
5. Junk journal embellishments – eg to tie the journal closed
6. Bouquet wrap – as shown above, particularly popular for rustic style weddings
7. Gift wrap ribbon – as natural-looking organic gift-wrapping has become popular, the undyed sari silk ribbons work really well as reusable ribbon. Simply tie them around the gift and finish off with a a sprig of fresh rosemary or a dried flower.
8. Felting
9. Doll/Toy hair
10. Shabby chic flowers – Angela Kerr has made an easy-to-follow tutorial on YouTube showing exactly how she makes these beautiful ribbon flowers using our packs of recycled sari and chiffon silk ribbon.
11. Weaving – the ribbons can be ironed flat and woven as any strips of fabric, or try weaving them with wool fibres and other textures for an organic natural wallhanging.
12. Garment ties eg corset lacing as done by Dhammit.Tat
13. Fibre beads – wound & glued
14. Button covers – cover existing buttons and glue at the back to get the perfect shade to match your project
15. Wedding invitation trim/bows – co-ordinate with your wedding colours
16. Sewing trim eg on bags, garments
17. Mixed media artwork
18. Embroidery
20. Hair bows
I hope these ideas have given you some inspiration! For even more suggestions, take a look at my Sari silk ribbon projects page on Pinterest.
Where can I buy the ribbon packs?
I have sari silk and chiffon silk ribbons available in many colourways, and will also dye custom colourways e.g. to match your wedding day colours. Contact me to find out more!
Sari Silk Ribbon Project Ideas