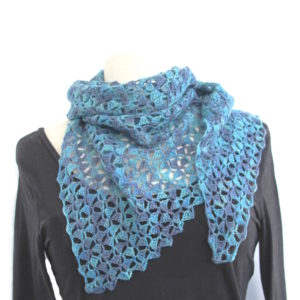 One of my most loved designs is the Light and Lacy Shawl; a crochet project to use one skein of laceweight Perran Yarn.
I class it as a project for a confident beginner, i.e. a crocheter who has mastered the basic stitches and wants to make something a little more challenging than a granny square – although I do still love a good granny square project!
Despite the main stitch repeat being simple to master, a few people have had difficulty with the initial setup rows before that. I decided it would be a good idea to share the guidance I gave them on the blog, so it's readily available.
I always find it easier to work on projects when I understand the construction, so I'll talk a little about this first. The shawl is worked as an irregular triangular shape from one point; the lengths of the sides will depend on the amount and type of yarn that you use.
The construction is similar to a Corner-To-Corner (C2C) design but not the same. In this shawl pattern you work one side straight and increase one cluster on the other side and continue in this way until the yarn is all used.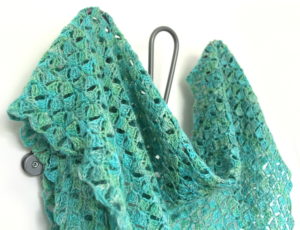 The minimum amount of laceweight yarn you'll need for a wearable size is 450metres; this is what I first designed the shawl for, which was one 50gram skein of pure yak yarn.
My lovely sampler team have since crocheted the shawl in various laceweight yarn bases that I stock, giving different size shawls.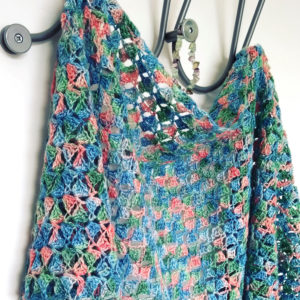 The most popular is the use of one skein of heavy laceweight yarn i.e. 600m in 100g, such as the Decadence Lace (BFL & silk blend) or Egyptian Lace (baby alpaca, linen & silk blend).
The setup rows create that first point, from which the main stitch pattern is established.
It can be tricky to explain in written instructions exactly where to work the stitches in these initial setup rows, so I have included annotated pictures for each of the rows.
The pictures show how the row looks like once it has been worked but before turning for the next row,
Setup:
Row 1: Ch8 [you will work the first cluster into these stitches], 4tr into 4th ch from hook, skip 3ch, 1dc into last ch, turn (1 cluster)
Row 2: 5ch [you will work the first cluster into these stitches], 4tr into 4th ch from hook, skip 4tr, dc into space between last tr skipped and chains at end of block, 2ch, 4tr into same space, turn (2 clusters)
Row 3: 5ch, 4tr into 4th ch from hook, skip 4tr, (dc, 2ch, 4tr) into next 2ch space [see Figure 3 below], skip 4tr,
dc into last 2ch space[see Figure 3 below], turn (3 clusters)
I hope this helps you get started on this lovely project. If you have any other questions about it, let me know and I'll add them to this post!
Light and Lacy Crochet Shawl – Pattern Tips