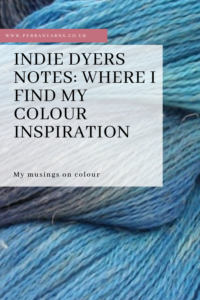 Ever wondered where I find my colour inspiration when dyeing your knitting yarns? In today's blog post I'm going to take you behind the scenes, to show you exactly where I source my colourways from.
My biggest colour inspiration – Nature
One of the biggest influences in my dyework is nature. That statement probably feels quite obvious when you see my work. I have yarns named by natural phenomena, like, Ocean Blue, or Winter Sunset. So there's definitely an obvious influence of nature in my work.
Sunsets in particular are one of my favourite things to witness throughout the year and photographing them gives me lots of reference material, for when I next get time to explore a new colourway in yarn.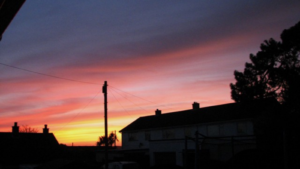 This photo that I took from my back garden gave birth to a colourway called 'Sunset Party'.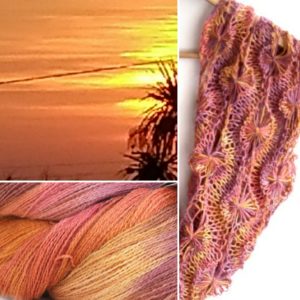 The warm colours blend their way across the yarn as you knit, to give a sympathetic feel for the bright yellow punctuating the evening sky as the sun gives way to the moon.
I am also heavily inspired by flora and fauna. I love how plants and landscaped planting can affect your mood, with their colour and heady scents.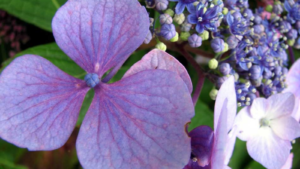 Hydrangea is another colourway you can see I sourced direct from mother nature – again from my home garden!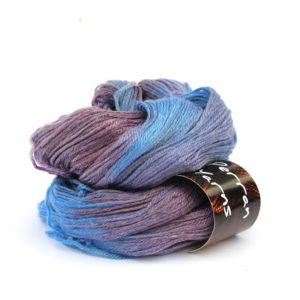 In particular, with this colourway, you can see how I was drawn to the changes in tones of blue and purple on this one flower head. Sometimes those small and seemingly unimportant details can have a big impact when your job is playing with colour.
One of the things I have learned to do over the years is to always have a camera with me, so that I can document everything… smart devices are a huge help nowadays.
The places that influence my colour choices
As many of you know I live and work in Cornwall, well known as England's rugged southwestern peninsula. When visiting Cornwall you will undoubtedly be impressed with our wild moorland and beautiful sandy beaches (otherwise called the Cornish Riviera). There is so much beauty here and I am proud to call it home.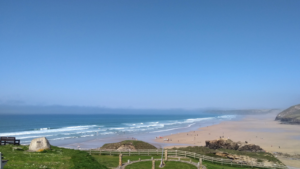 Perranporth is my most local beach and with it's 3-mile-long coastline there is always something new to see each time I visit during the year. I witness so much change that my colourways have become a document of this.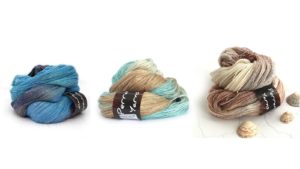 Colours Ocean Blue, Sandy Toes and She Sells Seashells are testament to that.
I also enjoy other artist's visions of Cornwall for colour inspiration… in fact, I have just had confirmation from a British artist to draw inspiration from one of her Cornish pieces for my upcoming exclusive Summer mini skein set (to be released in a couple of months from now). I am very excited about this and cannot wait to show you what I come up with!
Sometimes colour choice also comes from necessity
Very occasionally I will try on a new outfit and reach for a knit or crochet scarf, something to tie it all together and as I search through my choices I realise, 'Hey, I have nothing to go with this!' That sense of feeling incomplete with an outfit would otherwise have me internet shopping for a new accessory, but the beauty of dyeing yarn for a living, is that I get to create something that works just for me!
Fresh from the dye pot I will often whip up something special for my new outfit, something that will also work with other things in my wardrobe.
Wearability is key for me.
Sometimes colour choice comes from custom dye work
I quite often get custom dye requests via my Etsy shop and this opens me up to being inspired by the things that inspire you. I've been sent pictures of artworks, fabric samples and even pictures of food to match from!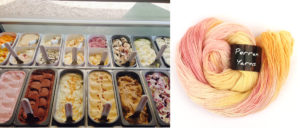 This one is called Ice Cream on the Exe which I dyed as an exclusive colourway for the Wool on the Exe yarn club.
What I love about this work is that it often gets me thinking and experimenting with colour choices I might not usually pick.
If this has got you thinking about a colourway you've been looking for abut can't find, contact me to discuss a custom dye order.
Above all my yarn colourways must be wearable
Often when, as designers, we talk about colourways and inspiration, it seems like we have an inherent knack to just look at something and replicate that into yarn, fabric, or paintings in a way that 'just works'. Like some little miracle. I think that can be misleading to an extent. Often there are factors we consider before, or after we draw from inspiration to turn that influence into something beautifully workable.
I do think some people have an eye for colour, yes, that is true, but I also think as a designer you need to understand how your choices serve your customer best. In my case, or in the case of a yarn dyer, I should say, I believe that how we put colours together must play out in a way that ultimately works for the knitter, or crocheter, or weaver. So, as I source my inspiration I am always keen to ask myself, 'Will this be wearable? How will it play out in stitches?'
How exactly you turn that colour inspiration into a wearable dyed yarn, whose colours dance happily across your needles and into a garment, well that's a story for another day!
Happy knitting!
Steph x
Indie Dyers Notes: Where I find my colour inspiration