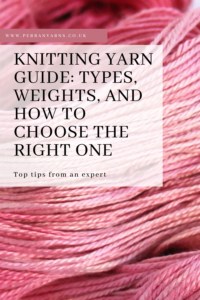 So you find yourself in the yarn shop again looking through the shelves, trying to find the 'perfect' knitting yarn for your latest project, after you realise they don't have the yarn the pattern calls for. You feel stuck, not entirely sure if the yarn you have your eye on will do the job.
Choosing the right knitting yarn for your project can feel daunting, but today on the blog I want to help by giving you some tips that I find help me.
Why 'types' of knitting yarn matter
The type of yarn you choose for your project will make a huge difference in how your final project knits up. Let's look at some basic facts about yarn types that will affect your choice.
Fibre Content
Different yarns will be made using different fibres, or blends of and these are usually based on either animal, plant or man made materials.
Common animal fibres used in yarns will include:
wool

mohair

cashmere

angora

alpaca
Common plant fibres used in yarns will include:
cotton

bamboo

silk

linen – usually used as a blend
Common man made fibres used in yarns will include:
polyester  – usually used as a blend

nylon – usually used as a blend

acrylic
Every fibre base will have characteristics that make it different from another, even within the same group. For example silk has a beautiful sheen and moves fluidly once knit. It drapes the body, making it perfect for evening pieces, especially accessories like shawls. However, it can also stretch over time, making it a poor choice for sweaters, unless it is heavily blended with something like wool.
Some wools (depending on the breed) can be harder to wear against the skin than others, because some wools come from a double coated breed and guard hairs can feel prickly. Those types of yarn are better for bags, or hats, whereas a beautifully soft Merino is highly recommended for garments worn next to the skin.
WOOL
Wool is fibre from the fleece of a sheep. It is warming, durable and resistant to moisture, which makes it a great choice for colder months. There are some breeds like Merino and Blue Faced Leicester which can be worn all year around. Wool is usually fairly inexpensive, depending on the breed and by comparison to other animal alternatives.
MOHAIR
Mohair is a fluffy fibre, which has a beautiful sheen to it. It is much more elastic than wool, which is great for resisting creases, but can make it prone to stretching, which is why you will often find it either blended with a wool fibre, or recommended for lighter accessories, rather than garments.
CASHMERE
Cashmere is an expensive yarn, but is beautifully soft to wear, making it a wonderful choice for luxury knits. It has a warming effect and what we call a 'cloud-like halo', which means it is slightly fluffy to the eye. Cashmere is also prone to stretching, which is why (aside from the cost) you will often find it heavily blended with wool, like Merino.
ANGORA
Angora is the fur of a rabbit and so as you can imagine it is light, soft and fluffy to wear. A great option for luxury accessories. Not unlike mohair (although much finer) you will often find it blended with wool, because of its elasticity and cost.
ALPACA
Spun from the fleece of alpaca, this fiber is known to be hypoallergenic, which is why it is often used in next-to-skin garments and baby clothes. It can stretch, so like most other animal fibres you will often find it blended with the sturdiness of wool.
COTTON
Cotton is thought as the most commonly used plant fibre and as it is widely grown, it is fairly inexpensive compared to most other plant based fibres. It is very inelastic because of the short length to the fibres, which gives the yarn a smooth finish. This allows for really great stitch definitions, but not much elasticity. Due to this, it can be known to split during knitting, especially in larger projects where the weight of a project pulls down on the working stitches.
BAMBOO
Bamboo is fast becoming popular as an alternative to cotton and because it is easy to grow, we are seeing more use of this yarn by yarn manufacturers. It has a good stretch, which is great for smaller projects, but needs to be considered for those larger garments.
SILK
Soft, smooth and lustrous, silk is an expensive fibre. It is usually put in the plant fibre category, but is actually made by silkworms who digest either cultivated or wild Mulberry leaves and create the fibre we wear in their cocoons. It is beautiful as knitted lace and adds drape when blended with other fibres (mostly animal) for garments and shawls.
LINEN
Linen is a sturdy plant fibre, much more dense and unforgiving than cotton, but it does make a lovely blend for summer, because of its moisture-wicking capabilities. It is usually mixed with other plant based fibres to soften the resulting yarn.
NYLON
This is a synthetic, or man made fiber and often blended with wool for sock yarn. Its elasticity makes it perfect for allowing socks to stretch over your feet and create ease in movement. 
POLYESTER
Polyester is usually blended with animal or plant fibres to help with drape and ease of care. It is much more inexpensive by comparison to natural alternatives, so has become more popular in recent years.
ACRYLIC
The most commonly used man made fibre has to be Acrylic. It is inexpensive and easy to care for, making it a great choice for those on a budget. But it can stretch and have a crunchy feeling which isn't always great during wear. Long term a wool alternative will outperform every time.
A word on yarn ply
Yarn ply refers to the number of single lengths of spun yarn twisted together to make a skein of yarn. Traditionally knitting yarns would be either 2, 3, or 4 ply, but you can have as many as 6, or even 8. Some skeins have just one single ply. Typically the more plies a yarn has, the more rounded and firm the overall plied yarn becomes, making a better stitch definition. However, fibre content can have an affect on this. For example, a mohair yarn would have less stitch definition than a wool yarn, because of the 'fluff' of the mohair fibre.
Why 'weights' of knitting yarn matter
Let us look at weights of yarn next. 'Weight' in this case refers to the thickness, or gauge of a knitting yarn (otherwise known as 'wraps per inch'). Typically, there are only a few 'weights' of yarn you will choose for most projects, but it is worth discovering all of your options.
LACE WEIGHT
Great for lighter garments, usually shawls, lace weight is the finest yarn you can buy. It is usually knit on 2.00mm – 2.50mm needles or hooks.
4PLY
Great as an all round yarn, you can make anything from socks, hats and shawls to lightweight garments. It is usually knit on 2.50mm – 3mm needles or hooks.
SPORT WEIGHT
Originally an American weight, sport weight yarn sits somewhere between a 4ply and a double knit (in the UK we might call it 5ply) and depending on the fibres it can be a great all rounder yarn. It is usually knit on 3mm – 3.50mm needles or hooks.
DOUBLE KNITTING
This is probably one of the most commonly used yarn weights for garment knitting and is usually knit on 4mm needles or hooks.
ARAN WEIGHT
We are getting into those heavier winter knits now with Aran weight yarns. These are usually knit on 5mm needles or hooks.
CHUNKY
Chunky (and superchunky) is a term of a weight of yarn thicker than Aran weight and can vary widely from yarn used on needle size 6mm and above, to finger knitting yarn. It is generally used for accessories, purely because the length of yarn per skein would require a much bigger expense for larger garments.
How to select the perfect knitting yarn for your project
Typically, if you are searching for a specific knitting yarn for your next project, it is because you already have a pattern in mind. So my best advice is to start with that pattern. Let me show you how I make my yarn substitutions:
Step 1 – find out what the original knitting yarn was
The easiest place to start is to find out exactly what the pattern calls for in yarn and note down its:
fibre content – note down the percentages if it is a blend

weight

ply if they have this

suggested needle size

gauge

care instructions
This will immediately give you a guide to follow for substitution purposes. Google is a great tool to use to find this information directly from manufacturer sites, as are knitting community sites like Ravelry. 
Step 2 – Understand if your preferred substituted yarn is a match
Next select your preferred choice of substituted yarn based on the information you get from the label (or online listing). You are looking for matches, or something as close to the pattern's intended yarn (see step 1).
Don't forget to also check for a dye-lot number, which means which batch of dye this yarn comes from. Yarns are dyed in batches and although recipes are followed, variations can and will happen across batches and you want to make sure with the retailer that you can get enough of the yarn dye lot as you will need to finish your project. If you can't, then either choose another colour, or alternatively buy from two dye lots and knit alternate rows from each lot (this will give you a very slight striped effect depending on the colour, and yarn base). Knitting a gauge swatch will help you discover if this method works for you.
You will find independent dyers like myself typically dye in small batches, so make sure that if you want to choose this route that you explore options with the dyer. In my case most of my yarns are variegated, so batches aren't an issue and you are expected to knit alternate skeins in alternate rows. Having said this, if you require enough of a colour for a larger project let me know and I will do my best to match skeins where possible.
Step 3 – The importance of a gauge swatch
Gauge swatches are incredibly important, because they tell you a lot about the yarn you intend to knit with, in the drape, stretch and projected fit. It also tells you how close you are to the original pattern and yarn choice.
A traditional gauge swatch is knitted flat in a square of 10cm, or 4 inches. However, if you intend to knit in the round, or have a larger design, such as a cable you may wish to knit a much larger swatch to see how one repeat of your pattern knits up and knit your swatch in the round if that is appropriate.
Check your swatch and see if this alternate yarn is a good match to the original.
If you have found a good match in your alternative yarn choice, then choosing the right needle size may also feel obvious. However, if you fall in love with a new yarn that is a slightly different weight, say sport weight, instead of 4ply, then you will need to test your gauge for the correct needle choice and sizing options, as a difference in weight will reflect heavily on how a garment knits up.
Steph's top tips on substituting the advised knitting yarn in a pattern
Twice in previous projects (one sweater, one cardigan) I've substituted the specified knitting yarn on the pattern with one that I preferred. The tension, weight, etc was all fine, but during the knitting I found the difference fibre made a huge difference. The yarns I used were too heavy and drapey, so they didn't give the structure that the garment needed. Whilst they looked great and fitted me, I never got to wear them because they just flopped and stretched as I tried them on. I knew my choice was off.
My biggest tip – consider the properties of the recommended yarn not just the weight and tension, but also for the fibre, structure and long-term wear.
Another common mistake I see knitters and crocheters make is substituting yarn based on the gram (or ounce) weight. Different fibres of the same weight (for example 4ply) can have very different lengths for an average of say, 100g. Let's look at an example; 100 grams (3.5 oz) of my Egyptian Lace base (50% Baby Alpaca, 25% Linen, 25% Silk) has approximately 600 metres ~ 656 yards, whereas my Heavenly Lace base (70% Baby Alpaca, 20% Silk, 10% Cashmere)  has approximately 1200 metres (1312 yards) per 100 grams (3.5 oz).
My second biggest tip – consider the length of yarn you need to make the size you wish to wear, make substitutions based on this, as well as weight, tension, fibre, structure and long-term wear.
Happy knitting!
Steph x
Knitting Yarn Guide: Types, Weights, and How to Choose the Right One