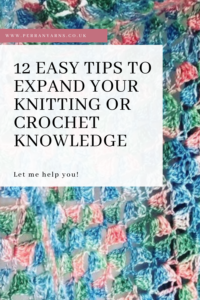 So many times at shows I hear customers say 'Oh I couldn't make that, it's too difficult.' Or 'I can't use yarn that thin/thick'. We are all too good at blocking things that take us out of our comfort zone, but the reality of that choice means that we are forever limited in what we can achieve.
Here are some simple steps I have taken to learning more about my favourite crafts: knitting and crochet. I hope they inspire you to get past your own creative blocks and try something new!
12 easy ways to learn more about knitting and crochet
Join me and be fearless! Try one or two of these tips in between projects, or challenge yourself to a few at a time and I promise you, that your knit and crochet knowledge will come on in leaps and bounds.
1. Learn about the effect of needle/hook size on your yarn
Take some yarn from your stash and a selection of needle, or hook sizes to use in this experiment.
Make some simple squares using a plain stitch and the standard needle/hook sizes given below, then try using a smaller & larger size to see the difference in finish:
Lace: 2-3.5mm

4ply: 3.5-4.5mm

DK: 4-4.5mm

Aran: 5-5.5mm

Chunky: 6mm+
A larger size needle or hook will produce bigger stitches, so the finished effect will be more loose and lacy – it will also be a larger finished size and will use more yarn.
A smaller size needle/hook will give the opposite finish – a denser fabric with smaller stitches.
Keep a note of your experiment and the squares in a journal with your experimental squares, as this will help you make decisions about future projects later on.
2. Learn how to use alternative yarns
Just because the pattern you bought uses a particular yarn, doesn't mean you have to stick to it. Of course there are some simple things to remember when substituting yarns, which we talked about in a recent blog post (Knitting Yarn Guide: Types, Weights, and How to Choose the Right One), but usually you can swap a pattern suggestion with something you prefer.
Generally you need to consider the following;
Look for a substitute yarn that works with a similar needle or hook size.

Calculations of how much you need to buy should be based on yardage and

not

weight. For example if you are substituting for a heavier fibre based yarn, then the length (or yardage) of your yarn will be shorter than the original yarn you are substituting. This means you will have to buy more 50g balls to finish the project with your new yarn choice.

Create a gauge swatch to test your new yarn selection.
If you want to test this theory before you try it out on a larger project, take two similar weight yarns from your stash, say double knit. Make sure they have different fibre contents. Now read the yarn labels, you will most likely see the difference in length already. Create a gauge swatch 10cm by 10cm for each using the same needle size, say 4mm. How different are these swatches when you finish?
Again, this is the type of experiment that teaches you so much about the craft you are so passionate about, and keeping these as records in a journal can help you make future project decisions, based on your increasing knit or crochet knowledge.
3. Get to know your tension
We all knit/crochet in our own way; some of us naturally making the stitches tighter and some of us making them looser. We're all different, and it's just the way we work. But do you know if your own gauge is loose or tight? Take time to practice with tension squares to learn what your own natural gauge is. 
Take a skein of yarn, say in 4ply or double knit and create three tension squares, one at the recommended needle or hook size, one with a larger needle (one needle or hook size up) and one with a smaller needle (one size down).
Compare all three. Which do you prefer?
If you are following a pattern, then you will be looking for the swatch that matches the recommended gauge on the pattern, which may mean using a needle/hook slightly different to the one specified in the pattern instructions.
If you are creating your own design, then you get to select the gauge you prefer, based on drape and purpose.
It is enlightening to learn how different yarns and fibres in tensioned fabrics behave!
4. Try out new stitches and techniques
New things often look more complicated than they really are, so why not give something different a try? When trying a new stitch or technique I recommend to read the instructions carefully and follow them exactly, pulling out and retrying your knitting and crochet where necessary.
A great way to get started with something new is to buy, or borrow from the library, a knit, or crochet stitch dictionary. You could also search for new techniques on Pinterest, Google, or YouTube. Thanks to the internet we now hav
e access to a much wider community of knitters and crocheters and they are more than happy to teach what they know!
5. Learn to adjust patterns to suit you
Don't like three quarter sleeves on your sweaters? Then learn how to make them longer! There are many great books on sizing and basic patterns that will show you quite quickly how to adapt anything.
The key things to remember are shaping and yarn requirements; for example lengthening a sweater that currently finishes on your top hip, will require not only more yarn, but accounting in shaping for a new hem position at your lower hip.
With this knowledge in your arsenal of knitting and crochet skills you will be able to look at any pattern and know how to adjust it to make something uniquely you.
6. Find time to practice over and over
Quite often, in our craft, we follow the pattern verbatim, never really understanding how the stitch or the techniques have an effect on how the yarn builds the fabric of our garment or accessory. Taking time to practice new stitches and techniques is a wonderful thing, because you start to see your work differently – you begin to learn to 'read' the stitches. With this new confidence you become bolder and braver with your future projects, ultimately working towards making the patterns you always felt were too difficult.
7. Learn to count your stitches in crochet
Counting stitches in a knitting project is pretty straightforward, but in crochet that's not always the case. The culprit is a little beastie called a 'turning chain'. This can vary in the number of chains worked depending on the type of crochet stitch in your pattern, and therefore how tall your stitches are. But should you count this as one of the stitches in the row or not? If you're not consistent with this throughout your pattern you'll find your stitch count is out and you'll have some interestingly-shaped edges!
Generally if the turning chain is just 1 chain, then it is not counted as the first stitch, but if it is taller then it does count as the first stitch.
Take some scrap yarn and crochet a swatch 10cm by 10cm in trebles (double crochet in US notation), with 3 chains as the turning chain. Count that turning chain as the first treble in the row, and practice counting your stitches per row to ensure that you stitch to the same number of stitches per row and finish with straight edges.
8.  Annotate your patterns
Starting a new project, particularly something that you feel is more advanced, can feel daunting. Here's one tip I learned to start doing with every new pattern – annotation.
Have a set of highlighters and coloured pens with you when you read through a new pattern. Highlight or circle the stitch and row counts for the size you are making, so you can focus on them easily. 
Is there a repeat you have to take notice of, or shaping that you need to know when to expect for the particular size you're making? Highlight the sections you need, and put a line through any that you don't. 
Maybe there's an instruction to decrease every 5th row on the armhole at the same time as decreasing every 3rd row on the neckline? Write out the row numbers for each set of decreases, and use a row counter as you work, so you can easily keep track of when to decrease on which side. 
Make notes with your coloured pens if you want to make adaptations before you start too. This will help you enjoy the process of knitting or crochet, rather than feeling frustrated that you are halfway through and need to stop to figure out your next best step.
9. Keep a project in your bag!
Crochet is very transportable, as are most smaller knit projects, so I always like to carry something with me. If I get some time during the day, maybe on my lunch break, I will take out my project and knit or crochet a little – even if only for 10 minutes. It's amazing how much progress you can make with regular short chunks of time!.
The idea behind this tip is to make knitting and crochet something that you practice often. As with anything else the act of practice breeds increased skill, and the regular repetition instills the knowledge in your brain so quickly become more familiar and comfortable with your expanding skills.
10. Always make sure your project bag has the essentials
Taking the time to practice and learn new knitting or crochet skills ultimately means you need to have a few 'essential' tools on hand. I tend to keep four to five things in a separate bag inside my main project bag;
Small scissors

Pen & small notepad

Stitch markers

Tape measure

Darning needle
Keeping these with my working project (or WIP as we call it – short for 'work in progress'), allows me to keep on practicing, wherever I am.
11. Visit local knit and crochet groups, or shows
We've talked about online learning and books so far, but one of my most favourite ways to learn new skills and expand my knit and crochet knowledge is to visit shows, or meet new people at local groups, or guilds.
Meeting people face to face and talking about your favourite craft is a sure fire way to find inspiration, help and to pick up new skills, as well as meeting new like-minded friends!
12. Try different needles and accessories to see which suit you best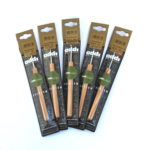 When your grandmother started knitting, or working projects up in crochet, she was almost certainly going to use just a fraction of the needles and accessories we have on offer today. She would be bamboozled by
 the choice of needles we now have – bamboo, carbon fibre, she wouldn't know where to start!
Take some time to try different tools, to see which suits you best. You may find that you prefer metal hooks for crochet, or wooden needles for knitting. You may also find that different needles help you knit at different tensions, or with lighter weight yarns too, for example lace weight yarn might feel better to work with on bamboo needles, which are both flexible and provide grip, whilst your double knitting is still ok on smooth metal.
There is no 'right' or 'wrong' – it's a matter of personal choice.
Steph's final tip
I honestly feel you should never be afraid to experiment. What is the worst that can happen? You pull out your practise piece and use it for something else – is that so bad?! You may have discovered a new favourite technique or useful lesson in the meantime.
Don't worry about the results you get in learning something new. Take the time to try new things and allow yourself to not be perfect, or totally happy with them the first time round; practise will make perfect.
12 easy tips to expand your knitting or crochet knowledge