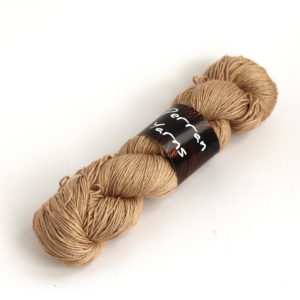 What exactly is Baby Camel yarn?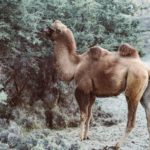 Baby camel yarn comes from the soft, warm undercoat of the two-humped Bactrian camel, which lives in cold climates like Mongolia. 
The yarn is spun from the downy fibre on the camel's underbelly, which the camels naturally shed in the late spring or early summer. This means that camel hair is more generally sustainably sourced and there is less concern about mistreatment of animals during fibre collection. Camels don't need to be restrained; instead breeders can just wait until the downy fibres have naturally fallen off the animals.
The hairs that have been shed are collected and washed to remove dirt and other impurities. The hair is then separated and carded. The coarser fibres are kept for denser textile uses such as making carpets. The finer fibres are then spun into yarn.
Camel wool threads are hollow, which means they are lightweight but extremely insulating. The camels' environment is very cold in winter and hot in summer, and their coats protect them from both extremes. 
Baby camel wool fibres are generally finer than most merino wool which results in a soft, delicate yarn that does not easily felt. It is comparable to cashmere in its properties.
The yarn is naturally a soft tan colour which is not bleached before dyeing. This results in soft muted versions of the colourways which are rather beautiful! The yarn is also readily available in its undyed warm sand shades.
Why I chose a blend of Baby Camel with Silk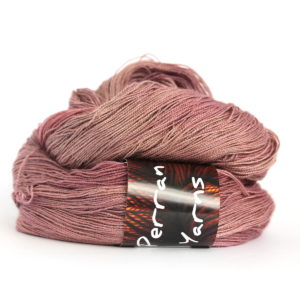 Being a luxury fibre, baby camel pairs well with silk to give a truly decadent yarn. The silk gives the yarn a subtle sheen, and adds drape to the finished garment.
Baby camel and silk blend yarn fits in beautifully with the wide range of Perran Yarn bases. It is a luxurious natural fibre blend which is a joy to work with and gives stunning results. 
Our baby camel and silk yarns are named 'Tranquil', which we stock in both laceweight and 4ply weights.
How a Baby Camel and Silk blend yarn knits and crochets
Baby camel and silk blend yarn is smooth, soft and lightweight. It glides effortlessly across the fingers when worked into a knitting or crochet project. 
I recommend using bamboo or wooden knitting needles to knit with this yarn, as the silk content makes it a little more slippery. Bamboo or other wooden needles hold the stitches a little more securely while the project is in progress, while still allowing them to glide along the needles to knit the rows.
For crochet, any type of crochet hook may be used as there is only one stitch on the hook at a time. Your choice of hook depends on your preference for comfort.
I believe baby camel and silk blend yarn would give a fantastic woven result, due to the sheen and drape of the finished item.
If you have woven with this yarn I'd love to hear what you thought of it!
Knitting example – Tidal Wrap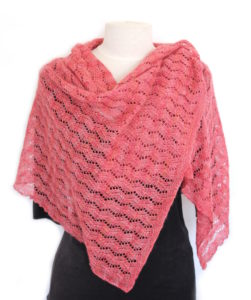 The stitch definition is good, even after washing when the yarn blooms a little.
Our Tidal Wrap knit kit was highlighted in our blogpost 7 amazing knitting gifts for the knitter in your life. It makes the most of one 100 gram skein of the laceweight baby camel and silk blend yarn, named Tranquil Lace.
The finished wrap has a stunning drape and sheen, and uses all of the 800 metres in the skein. It is a long rectangle shape with a geometric lacy zigzag design and garter stitch borders. It can be worn gathered around the neck as a scarf, or wrapped flat around the shoulders and fastened with a pretty shawl pin.
The Tidal Wrap knit kit is available in our Etsy shop, with a choice of 8 beautiful handdyed colourways.
Crochet example – Tehidy Shawl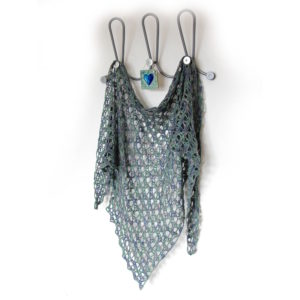 As the baby camel and silk blend yarn is smooth, it doesn't easily split or snag when crocheted. As with knitting, the yarn gives a good stitch definition when crocheted.
Our Tehidy Shawl crochet kit was highlighted in our recent blogpost 9 fabulous crochet gifts to suit all budgets. It uses a full 100 gram skein of the 4ply weight baby camel and silk blend yarn, named Tranquil 4ply.
The finished triangular shawl is far more open and airy than the Tidal Wrap due to the stitch pattern used. It makes a beautiful decorative accessory to your outfit.
The Tehidy Shawl crochet kit is available in our Etsy shop, with a choice of 10 beautiful handdyed colourways.
Tips on how to find the perfect pattern for your Baby Camel and Silk yarn
Baby camel and silk blend yarn is strong but not elastic, so it's best to steer away from more structured close-fitting garments that need to hold their shape. I wouldn't personally choose this yarn blend to knit a fitted item of clothing such as a buttoned cardigan.
Our Tidal Wrap knit kit and Tehidy Shawl crochet kit are both great choices, as they are flowing designs that take advantage of the yarn's inherent drape and sheen.
As always when finding the right pattern for a yarn, also take note of the yarn metreage, together with the recommended needle or hook size. You can then work out how many skeins of the yarn that you will need to complete the pattern. Remember that although you may be comparing 4ply yarns, the metreage per 100 gram skein can vary immensely!
We stock the Tranquil yarn in both laceweight and 4ply weights. Both weights are available undyed or in various handdyed colourways. The paler colourways are not available on this sumptuous yarn base due to the natural soft tan base shade, which would dominate the colourways.
The Tranquil yarns are available by themselves as 100 gram skeins or as part of the Tidal Wrap and Tehidy Shawl kits.
If you have any queries, just reply to this email or drop me a message on social media or at my Etsy shop.
Happy crafting!
Steph x
What is Baby Camel yarn and why is it great for knitting and crochet?