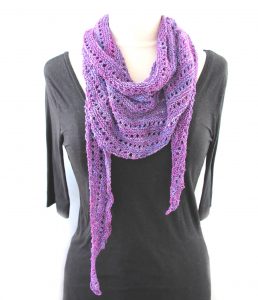 A few months back we were fortunate enough to take stock of some gorgeous fine boucle pure banana yarn in a 4ply weight instead of our usual laceweight version.
I wanted to inspire knitters and show them how far a single 100gram skein would go, so designed the Lean-To Eyelet Scarf pattern.
This has been packaged free with the 4ply banana yarn and has proven very popular, particularly at wool shows and local events. It's pictured here handdyed in our much-loved 'Blackcurrant Sorbet' colourway.
The banana 4ply yarn is now almost sold out, so I've knitted the pattern using a skein of our 4ply Superten – shown here in shade 'Ripples in the Sand'.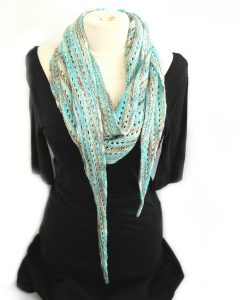 Superten is a 4ply superwash merino tencel blend with fabulous drape and sheen from the tencel – this is made from wood pulp – see our Tencel yarns page for more information!
As you can see the results are fabulous, so the pattern will be sent free with purchases of our 4ply yarns on request.
Which 4ply Perran Yarn will you choose to knit it with?
Free shawl knitting pattern