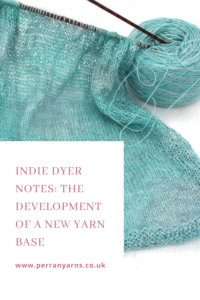 Ever wondered how I choose a new yarn base for you to knit or crochet with? In today's blog post I'm going to take you behind the scenes of my development process, so you can get a taste of what goes into the yarn you buy.
My guiding principles for selecting new yarn bases
First of all, let me tell you why I believe sharing my principles on yarn selection is important.
I believe that you, my dear customer, have a right to know about and to understand the products you buy from me. This knowledge gives you choices; not only in selecting the perfect yarn for your latest project, but also in choosing yarns based on provenance.
Over the last five years provenance has been a big discussion point for many consumer products and I believe as an independent I have an opportunity to really drill down on that. So here are my guiding principles to selecting new yarn bases for you to work with.
Softness

– this is the priority for me; I have always had sensitive skin that is prone to eczema and didn't wear wool for years as I found it too itchy. I was overjoyed when I found supersoft blends that I could actually wear comfortably! In turn I want to make sure that I am providing you with options, so that everyone, including those who suffer allergies based on itchy wool, gets the chance to find a blend that they can use – a blend that is soft enough and also beautiful to work with and wear.

Fit for purpose – This is key to a yarn making it into my range. I sell to knitters, crocheters, and weavers who need yarns to stand up to various levels of wear over time, for example in socks, garments and accessories. Therefore I tend to go for more expensive fibre blends which are not as readily available, because I know there will be a level of quality and durability there which is reflective of the cost.
I also consider elements such as the sheen & drape of the finished item – so tencel and silk blends are particular favourites of mine.
High quality – An individually hand dyed yarn is more expensive than a commercially-dyed yarn due to the time and resources used, so I see no point in starting with a more standard lower-end yarn base. We all need a treat now and then!
After purchase, my customers will then be spending many hours of their own valuable time and skills creating a beautiful item with the yarn, so the materials should reflect the quality and handmade nature of the end result. My patterns/kits deliberately only use one or two skeins so they are an affordable luxury.
A new or unusual fibre blend

– There are so many yarn brands out there, that spending your money with me has to give you a point of difference, more than just in the beautiful

colourways I develop

. One of the things I actively look for when adding a new yarn base to the range is the fibre blend. So, for example, I'd love to try a pure banana yarn and pure yak (which have both been part of my range in the past) and I adore

my silk/seacell blend

(seacell is derived from seaweed), as do you it seems!

And the suppliers I choose to work with…
The suppliers I choose to work with
I have been working in the UK yarn industry for several years now, so I have a pretty good understanding of which suppliers to use and I also have a good relationship with each of them. This means I can source new yarn bases with ease. My decisions are based on:
The quality of yarn, always

– from how it is blended, spun and worked up when it gets into your hands.

Their ability to source well and their own understanding of luxury yarns

– this was fully tested during the last 18 months of lockdowns which interrupted supplies of many items worldwide, including yarns. My suppliers worked hard to keep disruption to a minimum of the best quality yarns.

Location – I pick suppliers who are UK-based where possible.

This is the case with many of my yarns, including the locally-produced Devon alpaca I have in my range currently.

Direct sourcing – from the manufacturers where possible

to minimise costs and ensure that I can work with the manufacturer to get the desired product. For example the recycled sari and chiffon silk ribbons are bought directly from a trusted manufacturer in India, and I am regularly in contact with them regarding the type of ribbon I am looking for.
When do I choose to add new yarn bases to my range?
I often get asked this by new customers, because they want to know exactly when to check out my Etsy shop for new additions.
My answer is always the same.
I do not add new yarn bases at regular intervals; only when I've been tempted, or searched for a new base or blend with a supplier, or I have been requested something very specific by a customer.
Let me say at this point though, that I do update the shop weekly with new stock in my range of colourways, so it is always worth checking to find that special something just for you!
When I have chosen a new yarn base, I get samples first and dye them to check the result.
Then I knit and crochet samples with them to see how they feel and look when used. I also check they are fit for purpose, by playing around with the swatch and seeing if it would be better for a certain garment, or accessory type over another.
Finally, I plan a new pattern if it's a completely different yarn. Whilst I have many patterns in development here at HQ, I also collaborate with other pattern designers, if I don't have time myself or receive a request with an interesting idea. This means you get not only a new yarn base, but also the perfect project to knit or crochet with it!
Once the pattern is ready to go, I work with my trusty team of UK-based knitters and crocheters who make items for me, from my patterns. This means I can have finished item samples in different yarn bases and colourways on display at wool shows and events to show you exactly how yarns work up.
I hope that has answered some of your questions on how I select yarn bases for you. Feel free to contact me if you want to ask me anything else.
If you want to learn more about how I pick the colours I dye, then check out my blog post Indie Dyers Notes: Where I find my colour inspiration.
You can also find my current collection at https://www.etsy.com/shop/perranyarns/. 
Happy knitting!
Steph x
Indie Dyer Notes: The development of a new yarn base